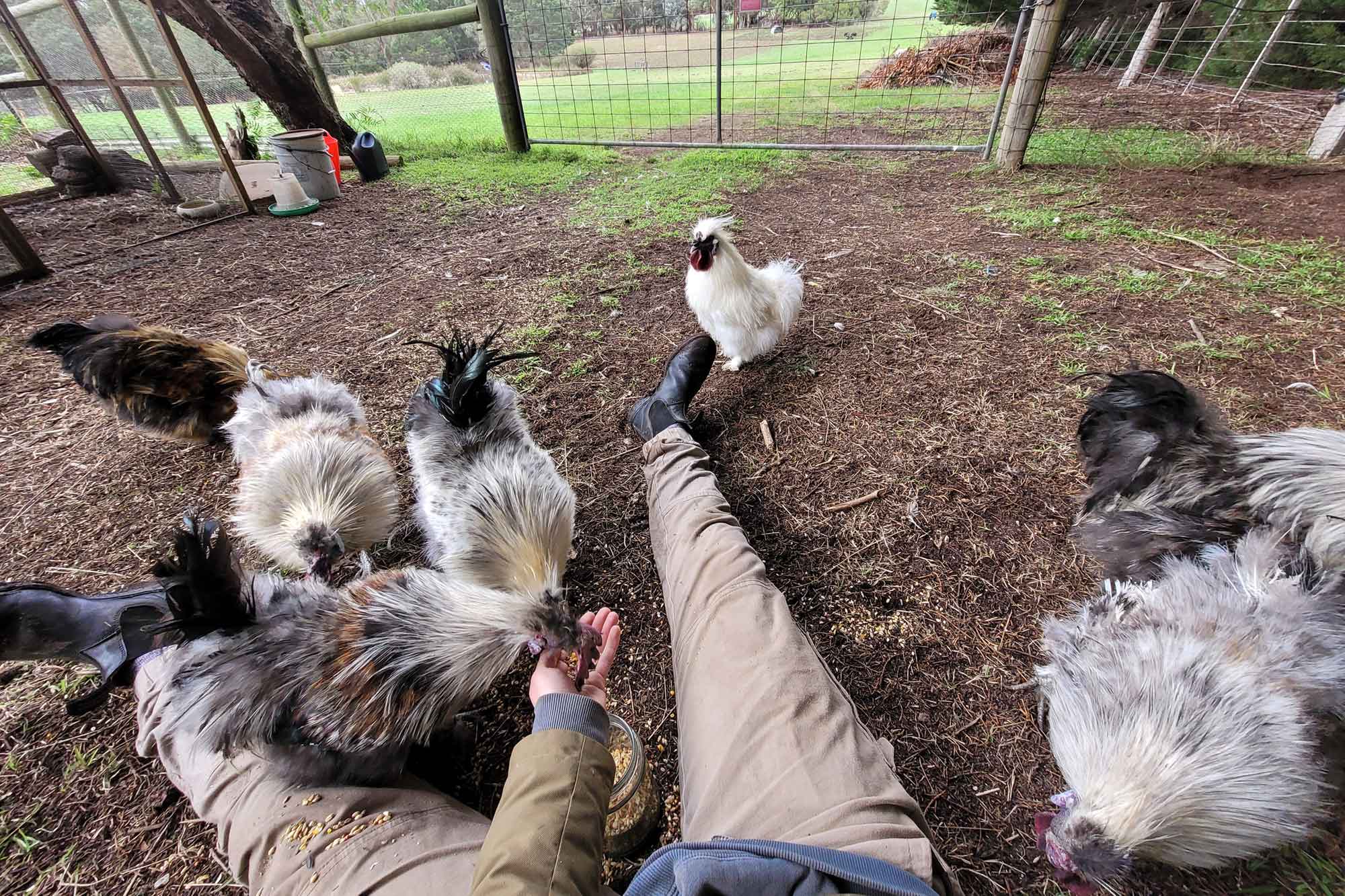 Silkie Roosters
Posted August 04 2023
Following a mammoth rescue of over 600 silkie roosters from an abandoned meat farm in January 2023, Ash and Carrissa of Wildfields farm share the heartwarming story of how their adopted seven silkies are doing in their new life of luxury.
Wildfields farm started about 6 months ago. It's a beautiful 10 acres at the edge of the Otways. We have many dreams for this land, including regeneration, food production and providing animals with the life they deserve.
Rehoming roosters can be difficult and after learning that they can live in a group together, we knew this was something we wanted to do. We don't eat eggs and we have lots of space for them to scritch around and help improve the soil so it is a perfect match.
Edgar's Mission is such an incredible organisation, we have so much love and admiration for everything you do. We had followed the horrific story of these silkies and once we had the facilities in place to provide them with a safe and spacious new home, we got in contact.
Earl is a beautiful rooster and he knows it. Whenever I take a video he stands up tall and proud and will look directly into the lens
The roosters have settled in really well. I love spending time with them: sitting with them in the mornings, giving them some food and getting to know all their unique personalities. Their past trauma is apparent in subtle ways but watching them grow in confidence is amazing. They love dust baths, sunbaking and eating grass. The boys have recently got some new friends to help keep them safe – two Maremmas adopted from Zoos Victoria after retiring from a bandicoot breeding program.
Freddie runs up whenever I come near the enclosure and follows me everywhere. He has a big walnut comb that sits over his top beak and I hand feed him grain to make sure he is getting enough food.
Earl is a beautiful rooster and he knows it. Whenever I take a video he stands up tall and proud and will look directly into the lens. Earl was the first to crow when they all arrived, I think he is the leader and a very gentle one.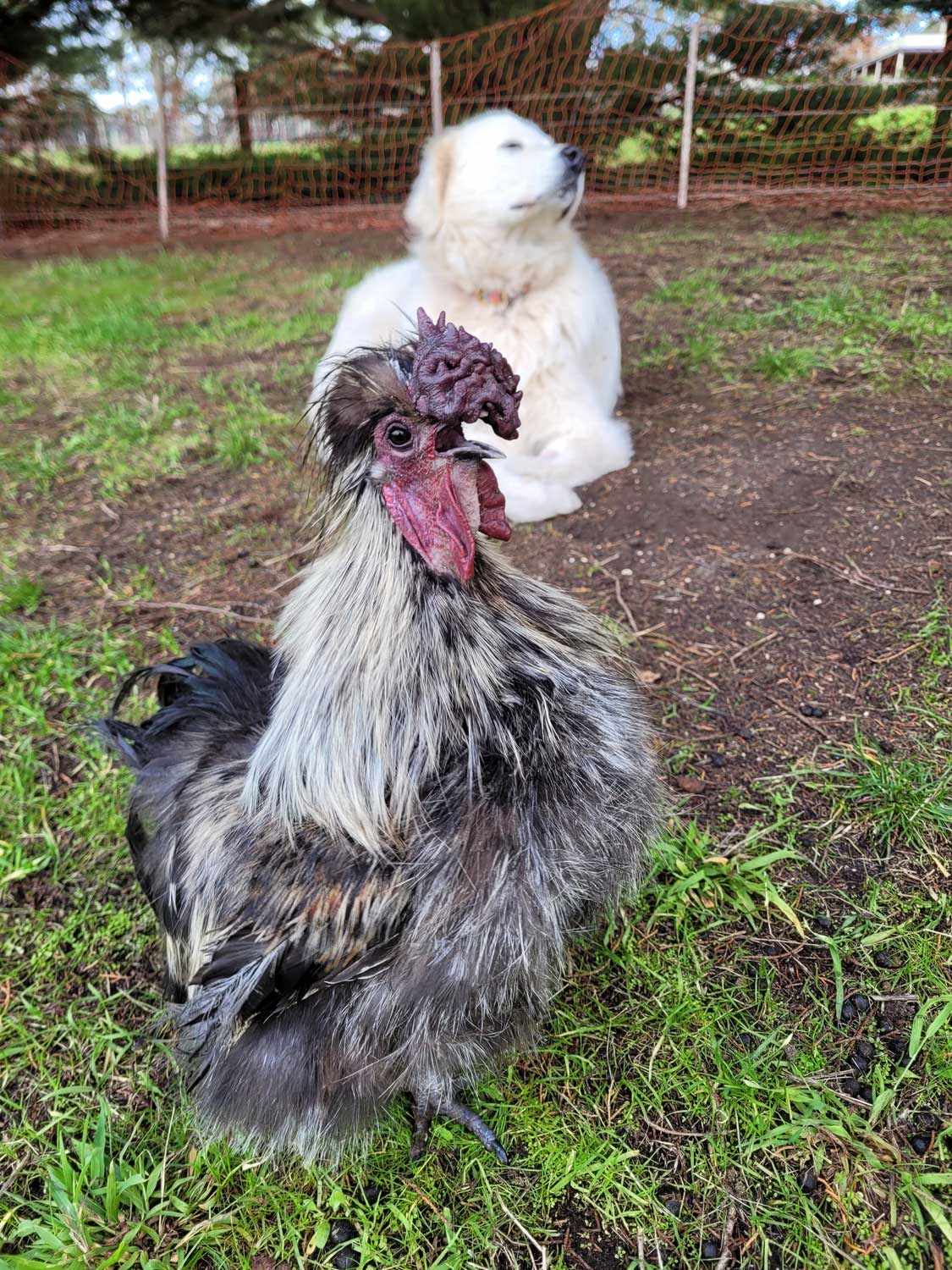 Stumpy is the smallest but stands very tall and upright, he was missing lots of feathers when he first arrived and got picked on by the other boys. He has now grown back in many of his feathers, is looking great and will often be seen protecting the other roosters if they are getting picked on. Such a sweet boy.
Boz has a lot of personality and can be a little feisty. Every morning when they are let out, Boz jumps up onto the roost outside and does a big crow. Boz loves corn and letting everyone know when he has found something exciting (it's often just a stick or rock but he is very proud of himself).
Micheal Buble or "Bubes" is the only brown rooster and has the most incredible colouring. He loves sunbaking and staying away from humans. Bubes does everything at top speed, loves zipping around.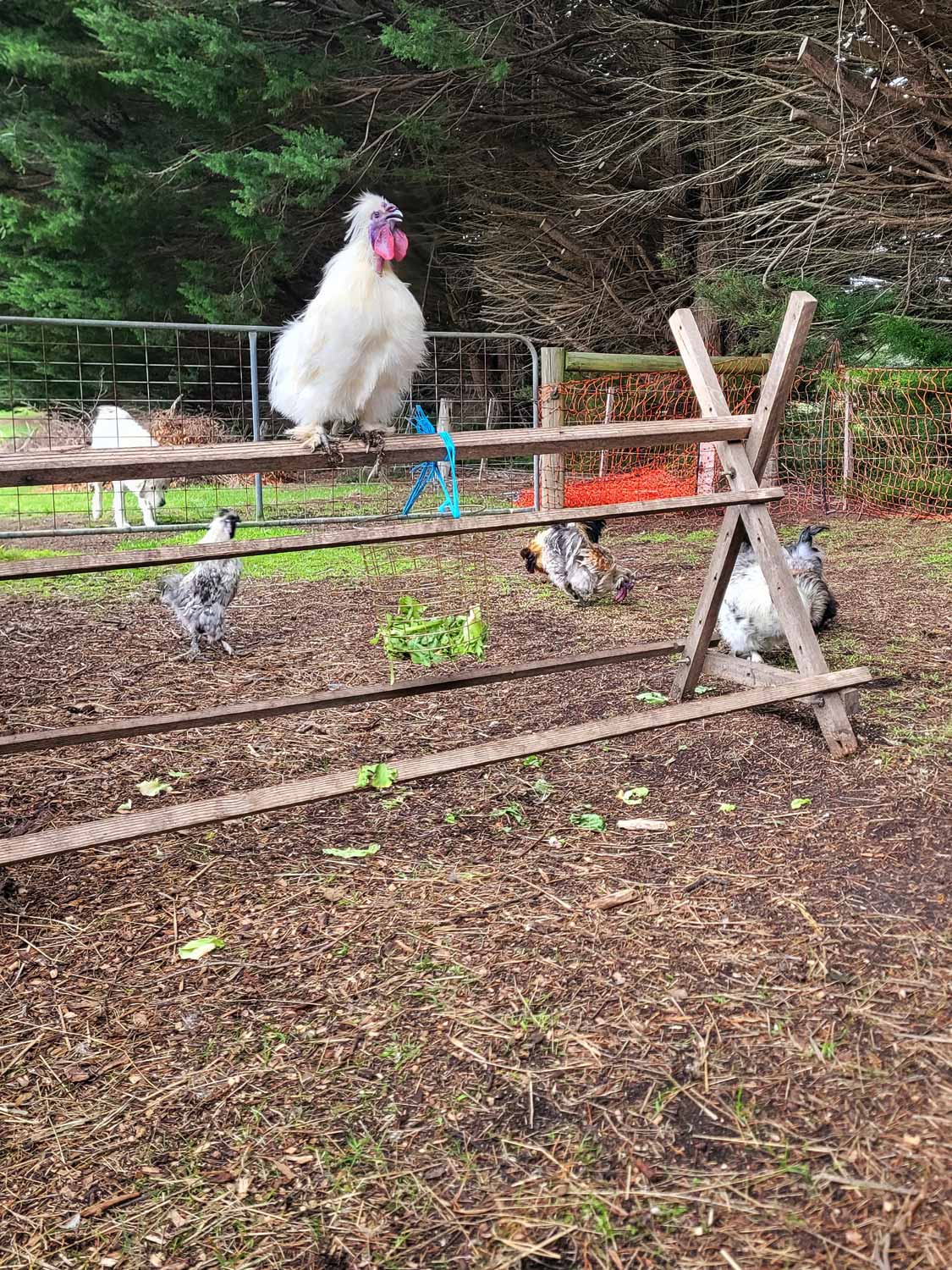 Andy likes to follow Freddie around and get in on the handfed grains, he is often last to bed and needs a little encouragement to get into the coop in the evenings.
Petey is the biggest out of everyone but I don't think he realises. He's a shy boy and has the most distinctive crow with an endearing voice crack at the end.
We are so happy to have been able to provide these 7 handsome roosters with a forever home."
If you would like to follow the journey of these roosters, you can find them on Instagram at @wildfieldsfarm.
If you also have the love, commitment and space to welcome new animal family members into your world, please check out our adoption page.