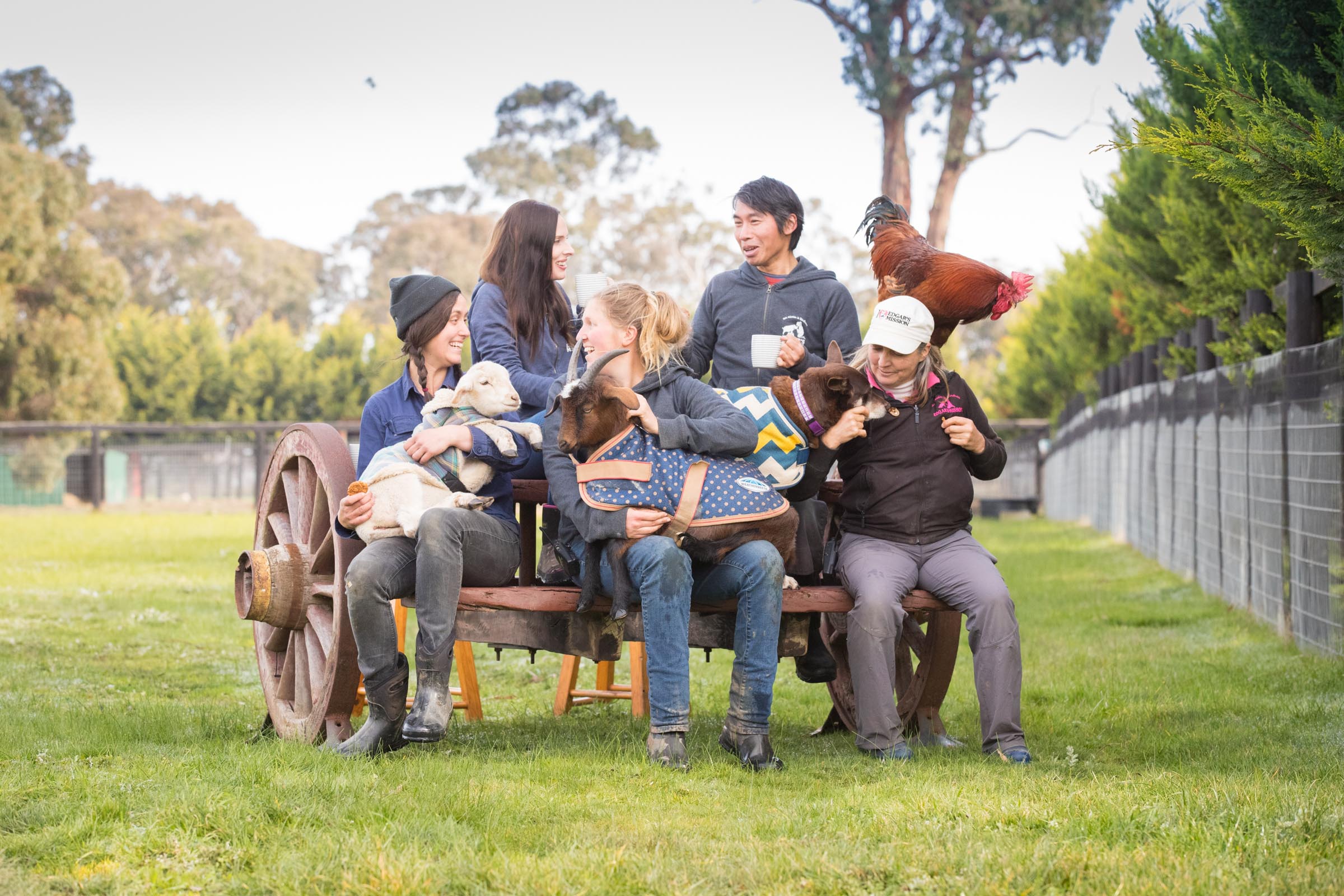 THE TEAM
Who We Are
We love animals!
Edgar's Mission is staffed by kind humans who love animals and dedicate their days to helping them. We have a mix of staff, volunteers and board members, led by Founder Pam Ahern.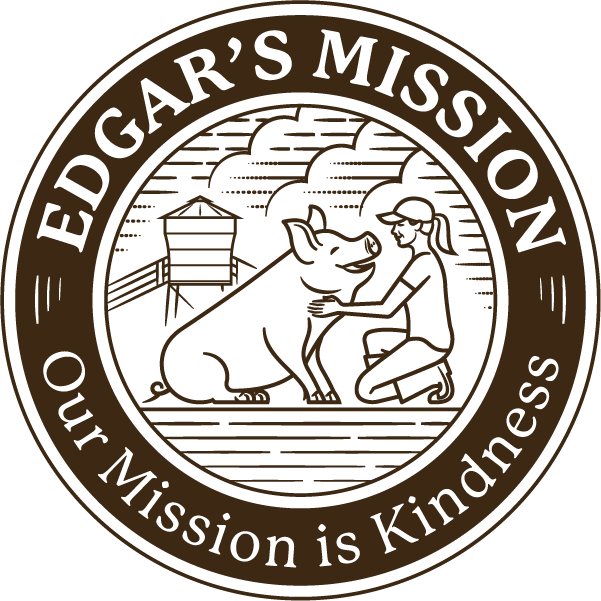 Founder
Pam Ahern
Founder
In The Long Dark Tea-Time of the Soul, Douglas Adams' fictional detective, Dirk Gently, states: "I may not have gone where I intended to go but I think I have ended up where I needed to be." I think this quote sums up my life perfectly.
From an animal-loving little city kid who always wanted a pony, I went on to achieve her dream and so, so much more by becoming a successful equestrian – and I thought that was it. However, I quickly realized that it was but a stepping-stone to where I needed to be, which was truly championing the cause of animals in ways that I had not ever imagined.
I founded Edgar's Mission in 2003 after I rescued a tiny piglet for a photo shoot. I named the piglet Edgar Alan Pig. At the time I was assisting Animals Australia (on a voluntary basis) with their Save Babe campaign ‒ a brilliantly conceived campaign to highlight the plight of pigs and our flawed animal protection laws.
It was through watching people's interactions with Edgar when I took him to the local park in the company of my little dog, ET, that the idea of Edgar's Mission came into being. I found in Edgar the most amazing and moving ambassador for animals; whilst I could talk to people's minds, Edgar so eloquently oinked his way into their heart.
And so I hung up the boots on my equestrian career, quit my full time and secure paying job, and said farewell to ever having a normal life and goodbye to my partner when he said, "It's me or the pig". I threw on my gumboots as I sent caution packing, because I did not want to get to be 85 and say, "hmm, what if?"
Establishing a much-needed sanctuary for farmed animals (as far as I know there were no other farmed animal sanctuaries in Victoria at the time, although today many exist, no doubt inspired by the work of Edgar's Mission) enabled me to not only provide a place for these forgotten farmed animals like Edgar and his kind to live out their lives, but for people to come and meet these animals and learn about them, make connections with them, and moreover open their hearts and minds to seeing these animals beyond the production units our society has reduced them to.
So here I am, staggered at both the size to which my beloved Edgar grew and also the size and reach of Edgar's Mission, daily doing things I never thought possible. I do all of this because I truly believe a kinder world for animals is not only possible, she is on her way – oh boy, is she on her formidable way.
"I want to live in a world of kindness. A world where people look out for one another, regardless of the species. I trust you do too." — Pam Ahern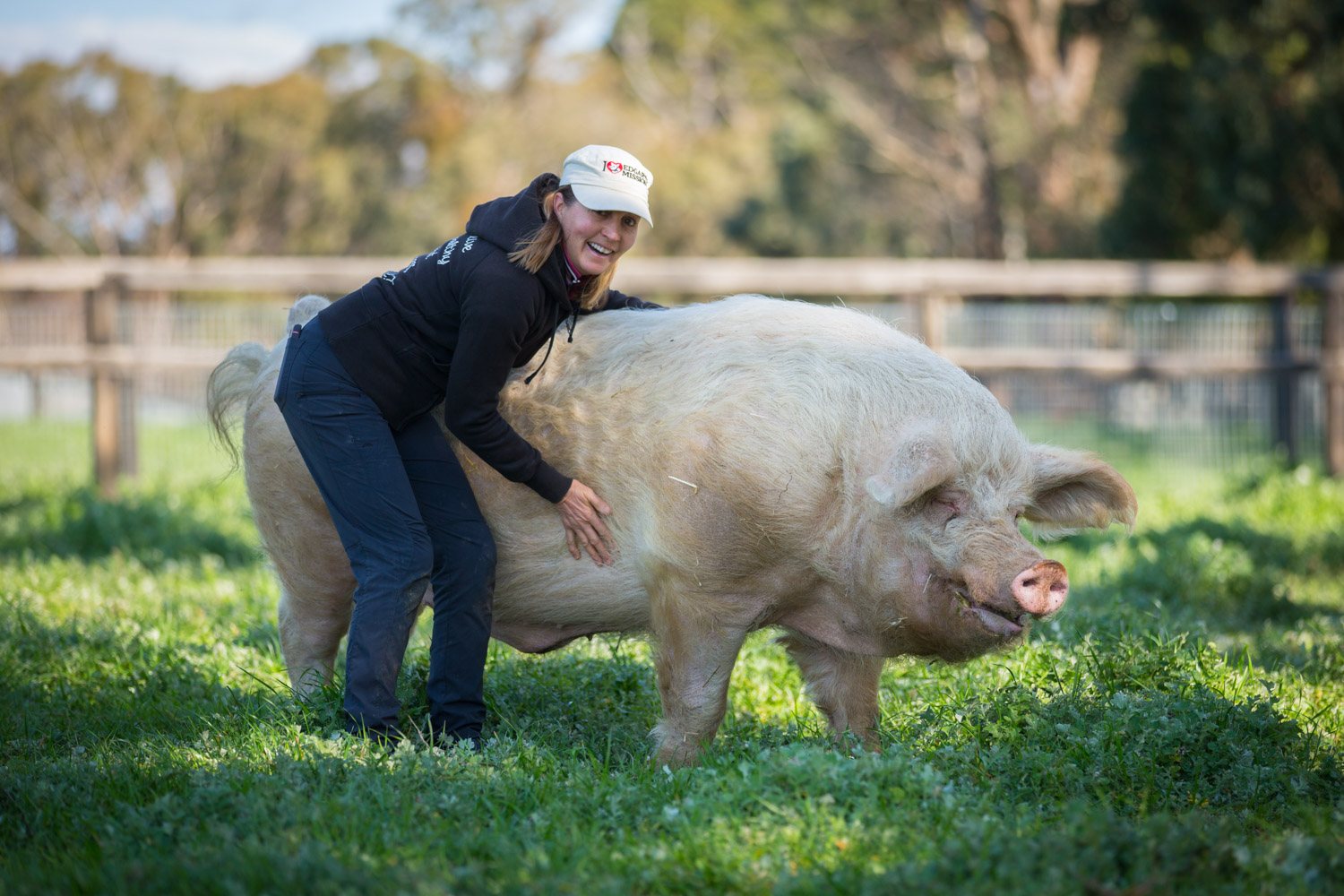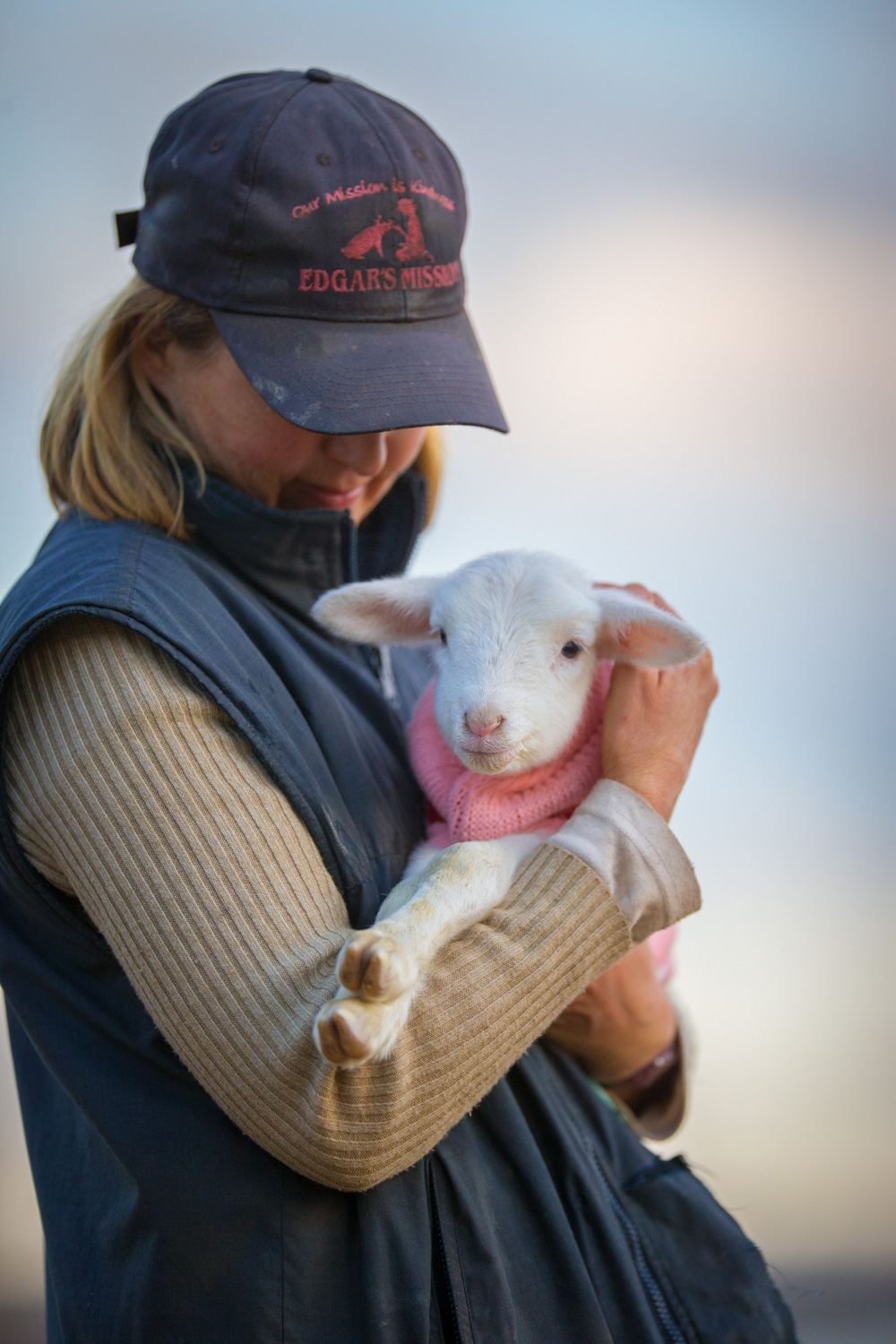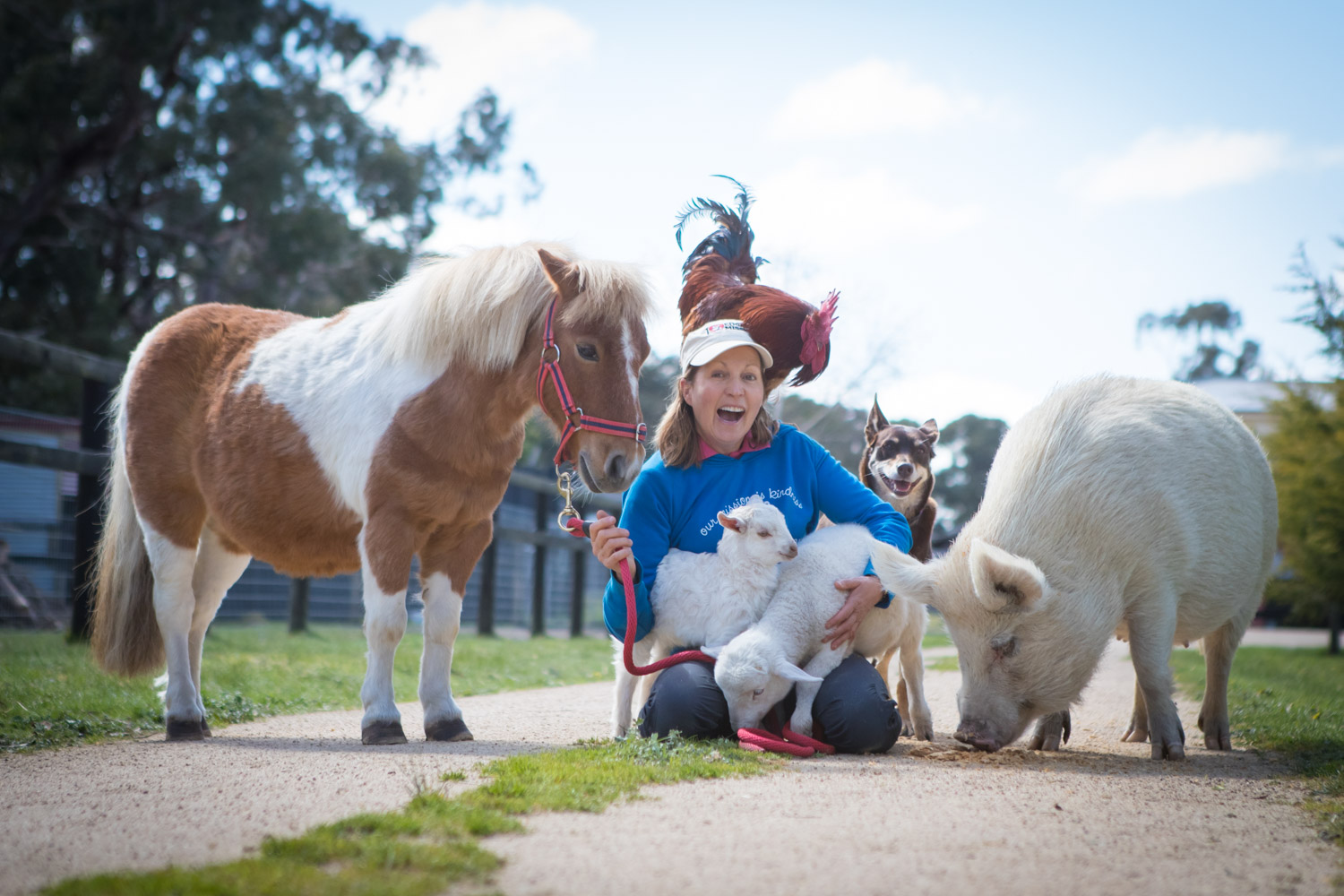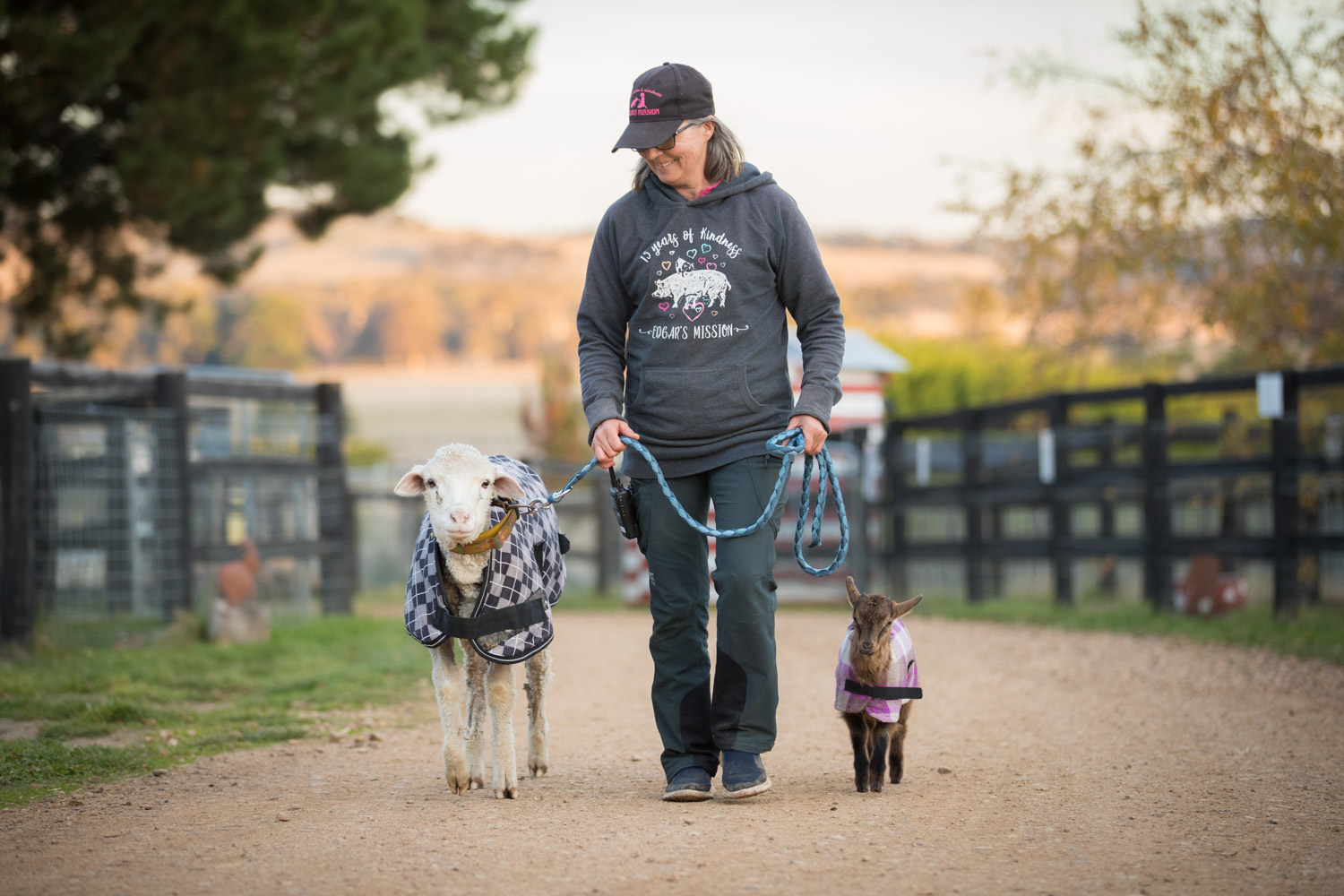 Staff
Graham McGeorge
Sanctuary Care Manager
From the very beginning, Graham's true loves were music and animals. Becoming a professional cellist, he embarked on a career as a Luthier (stringed instrument maker/repairer), but after almost twenty years in the violin making business, it was time to march to a new tune. After bottle raising three orphaned lambs, Graham joined the team as a Sanctuary Hand, and is now our wonderful Sanctuary Care Manager.
Today he makes sweet music of the heart with our rescued animal residents, while violin making and music remains a treasured pastime.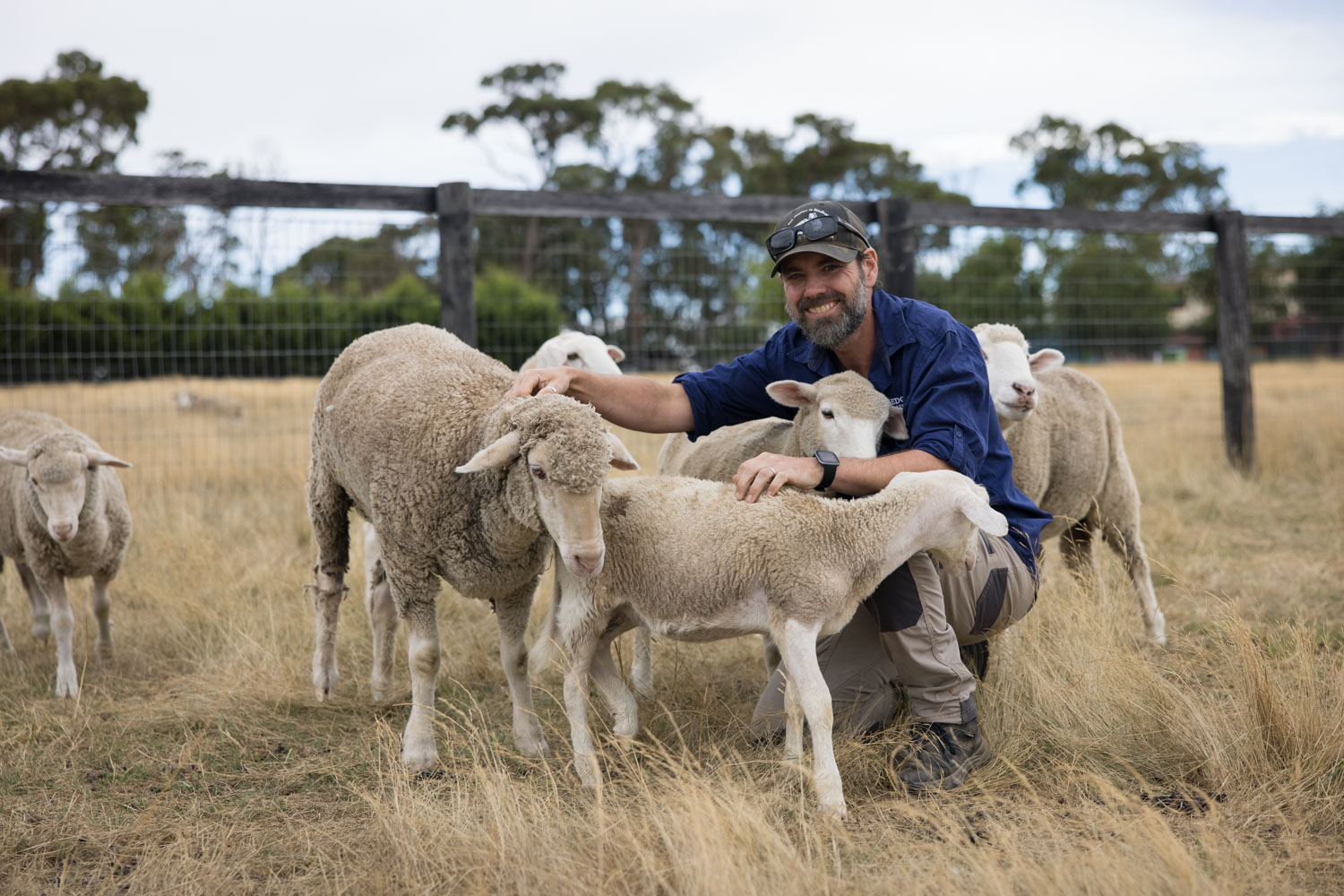 Staff
Leonie Mertens
Animal Care Manager
Leonie grew up on her parent's hobby farm in the Netherlands, where her passion for animals began. After studying Animal Management, she set off to travel the world and gain a wider range of animal experiences which included volunteering at a sanctuary in Costa Rica with sloths, monkeys, parrots and snakes.
Eventually she settled in Australia where she worked for cattle and sheep stations, but it wasn't until she came across Edgar's Mission that she truly found her calling at Edgar's Mission. While capable Leonie is always on the go, she always makes time to give Sadie the pig a loving belly rub.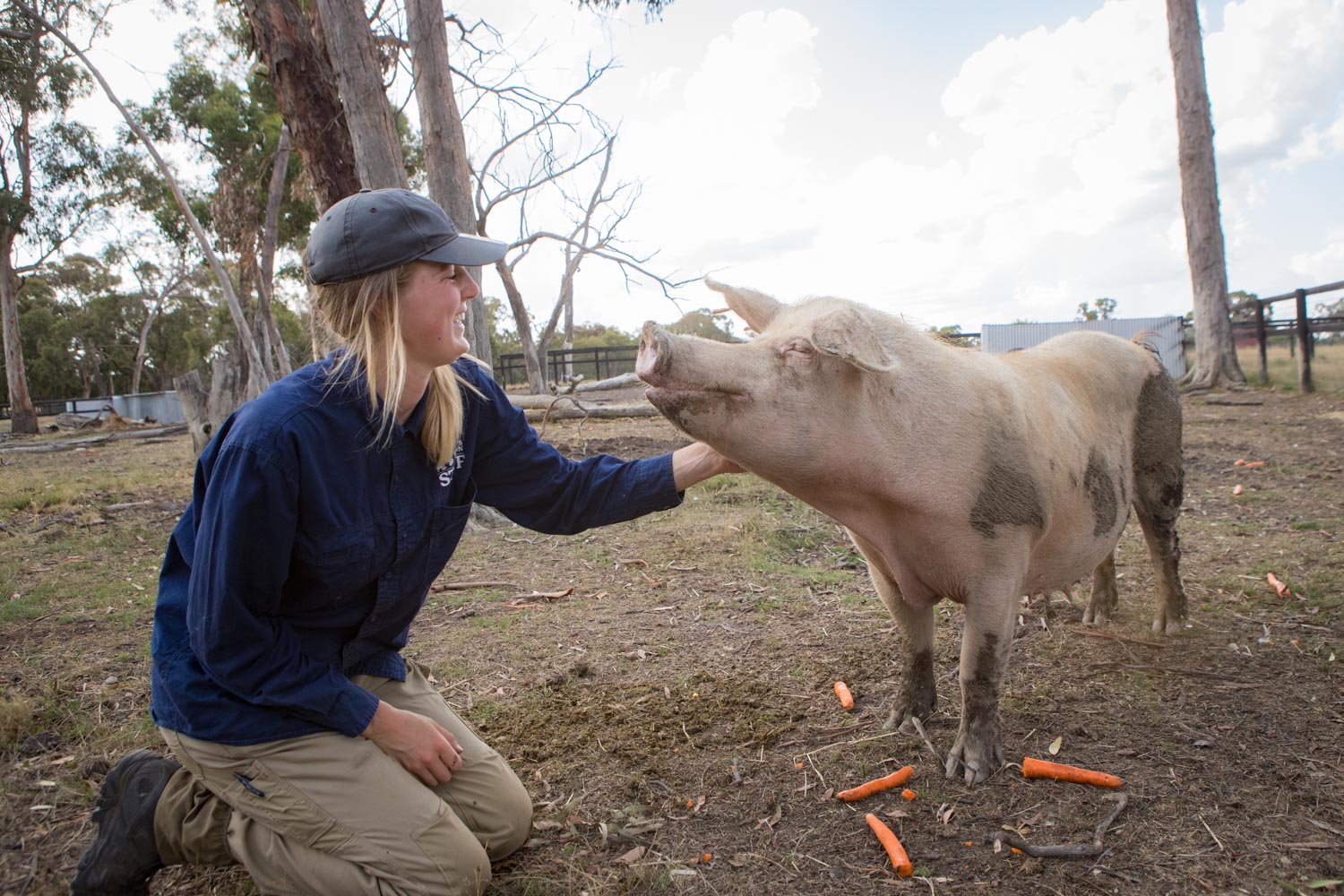 Staff
Kel Shannon
Animal Care Coordinator
After a long background working with horses, Kel packed up her life in the South East to join the Edgar's Mission team. This talented lady, who coordinates our animal care to ensure every rescued resident receives a high level of care, is smitten with all of the animals. She shares a beautiful bond with a cheeky goat named Tim Tam, who she assisted in rehabilitating after he was unable to walk.
Kel ensures he is always looking fashionable for the season, and we can't work out who enjoys this more – her or Tim Tam!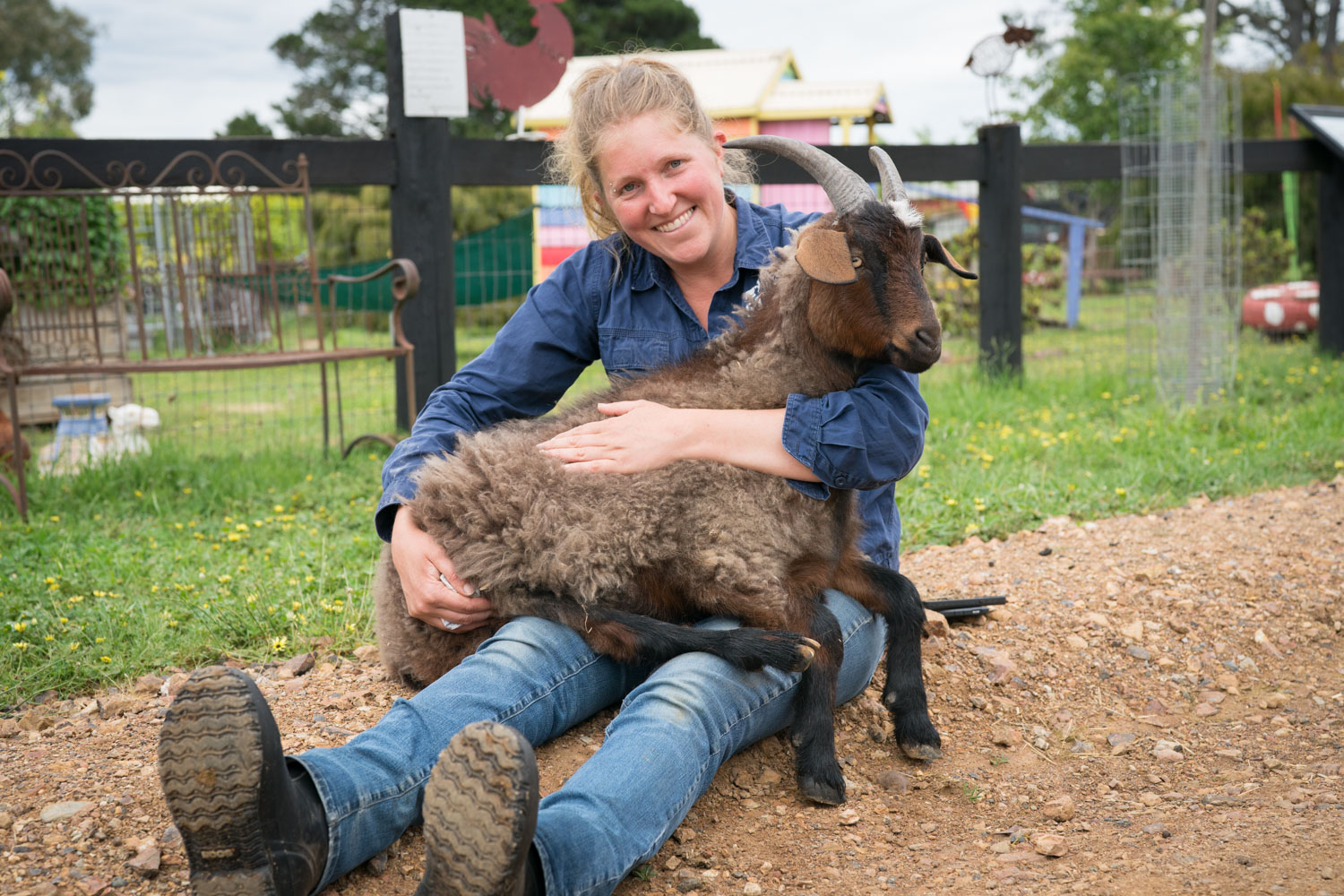 Staff
Kelly Dinham
Community Engagement & Advocacy Officer
There are many string to Kelly's bow. Not only does this gifted gal oversee our merchandise, social media, tour and events bookings, she also helps others open their hearts and minds to the inner worlds of farmed animals as Tour Guide and Photographer. Kelly also holds the ever-important role at the sanctuary of keeping up with the daily pat quota for Makamae the office cat.
Kelly's unique world view is not only shaped by her kind heart and love for animals but also her view from above. As an accomplished sky diver, Kelly has seen sights many of us could only dream to experience.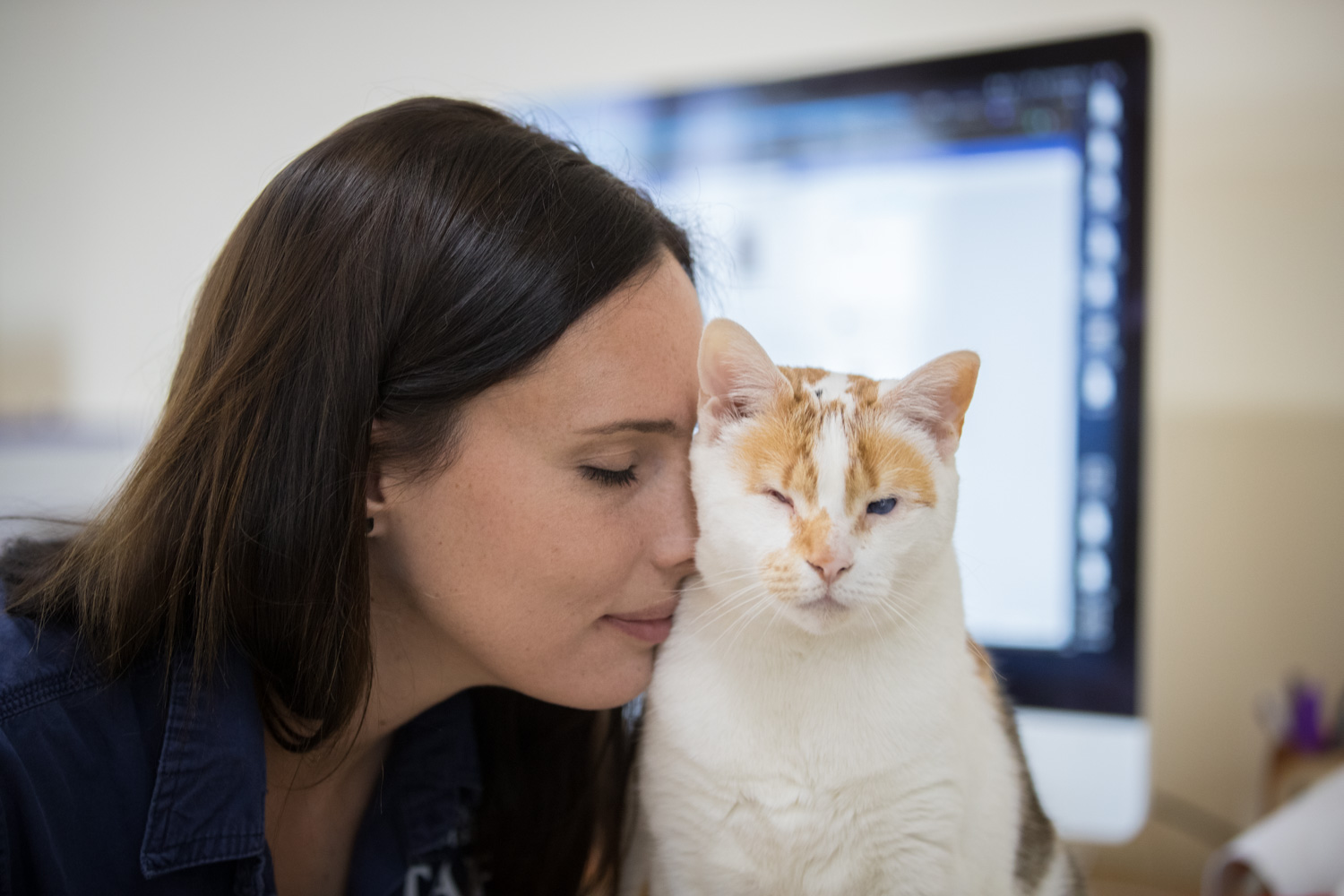 Staff
Kwok Lee
After Hours Sanctuary Coordinator
Kwok comes to us from a diverse and extensive background working in humanitarian aid and now adeptly fills his role caring for our animal residents, tucking them in safely at night and ensuring each and every need is met, down to the very last feather. Kwok first began his journey in animal care with an internship at the renowned Farm Sanctuary in the USA, who then sent him Edgar's Mission-bound to continue his journey in creating a kinder world for farmed animals.
Kwok's middle name is a direct translation of the word 'Wisdom' in Cantonese, which is one of the many qualities he brings to our team each and every day.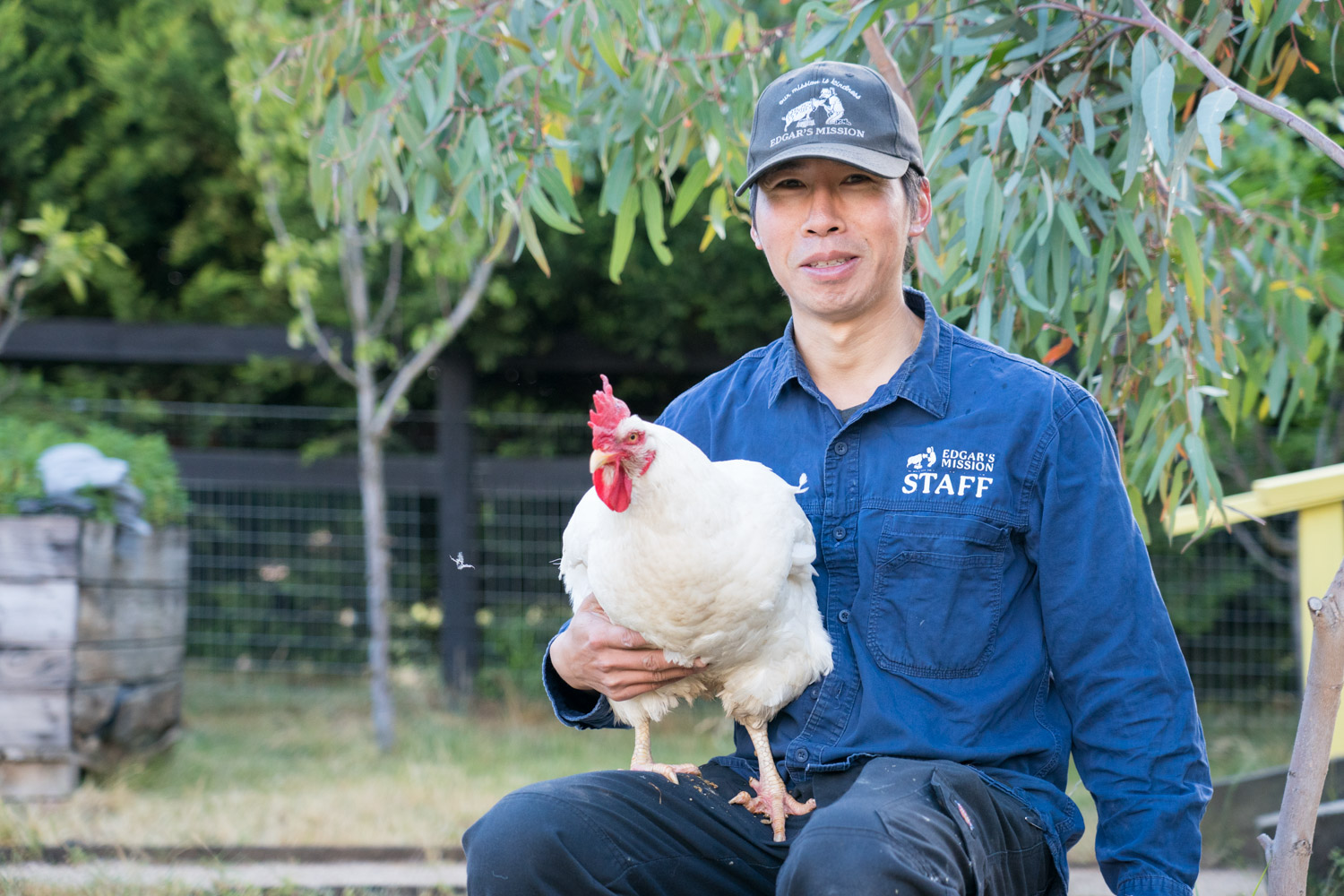 Staff
Dannielle Glencorse
Senior Sanctuary Hand
Sometimes life leads you down a path you'd never imagined… just ask Danni! A fervent lover of animals, this clever human went on to train in Animal Science and completed a PhD focused on reproduction in pigs. After becoming a Technical Officer she thought she had found her dream job, but struggled with the context, so when she came across Edgar's Mission, she knew she wanted to be a part of it.
Since joining the team, Danni has connected with many animals including sweet Sophie, a former dairy calf. Danni loves seeing what is truly possible when you are willing to extend help and care to those in need.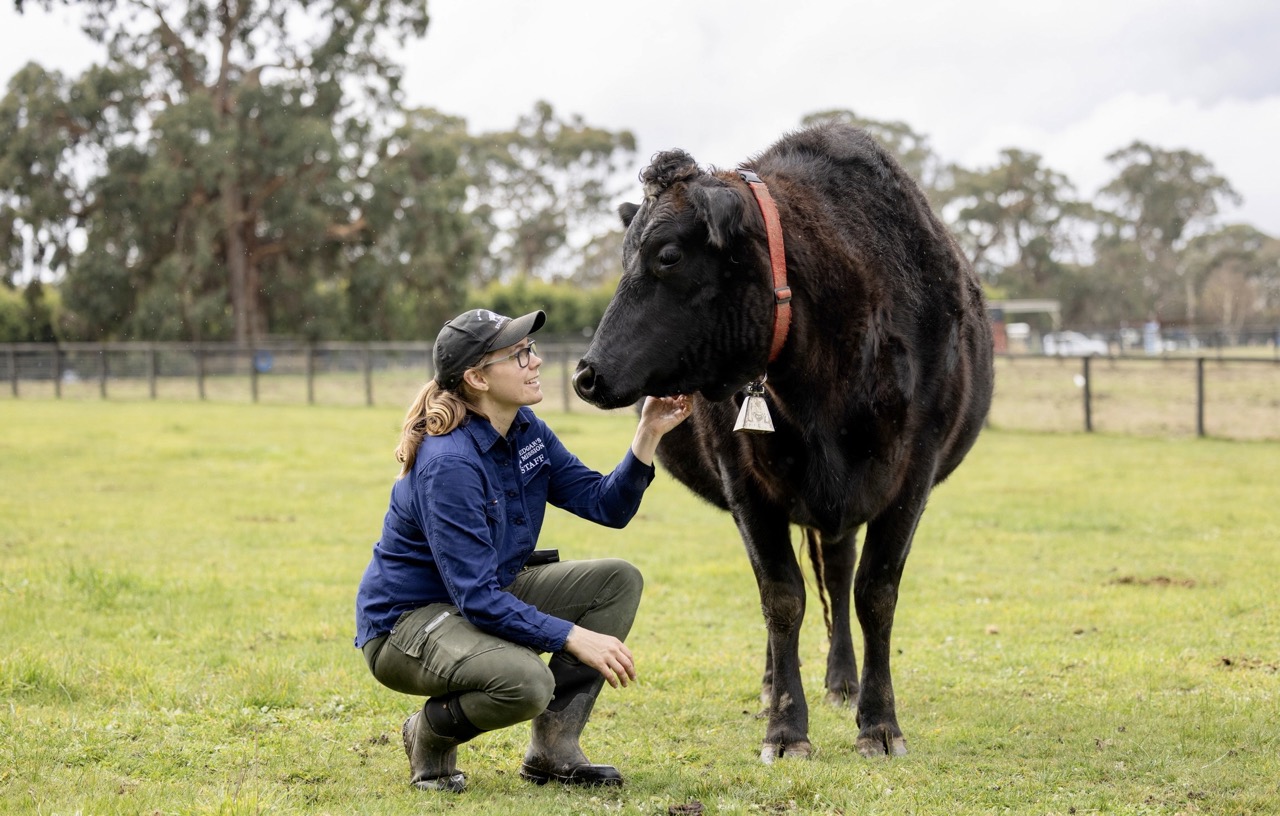 Staff
Rebecca Gallaway
Sanctuary Administration Officer
Rebecca brings a unique blend of corporate expertise and a lifelong passion for animals to her role at Edgars Mission. Her career in the corporate sector provided her with strong administrative skills, but her heart has always been with animals. Over the years, she volunteered with organisations like Animal Aid, RSPCA, and Ingrid's Haven, and her dedication to making a difference for animals is unwavering.
Rebecca's connection with Edgars Mission goes back to her days as a donor, where she witnessed our life-saving work firsthand. When an opportunity to join the team arose, she eagerly embraced it as a way to combine her administrative background with her profound love for animals.
Rebecca's role at Edgars Mission allows her to advocate for farmed animals, leveraging her administrative skills and deep compassion. Her dedication to making the world a kinder place makes her a valuable asset to the team!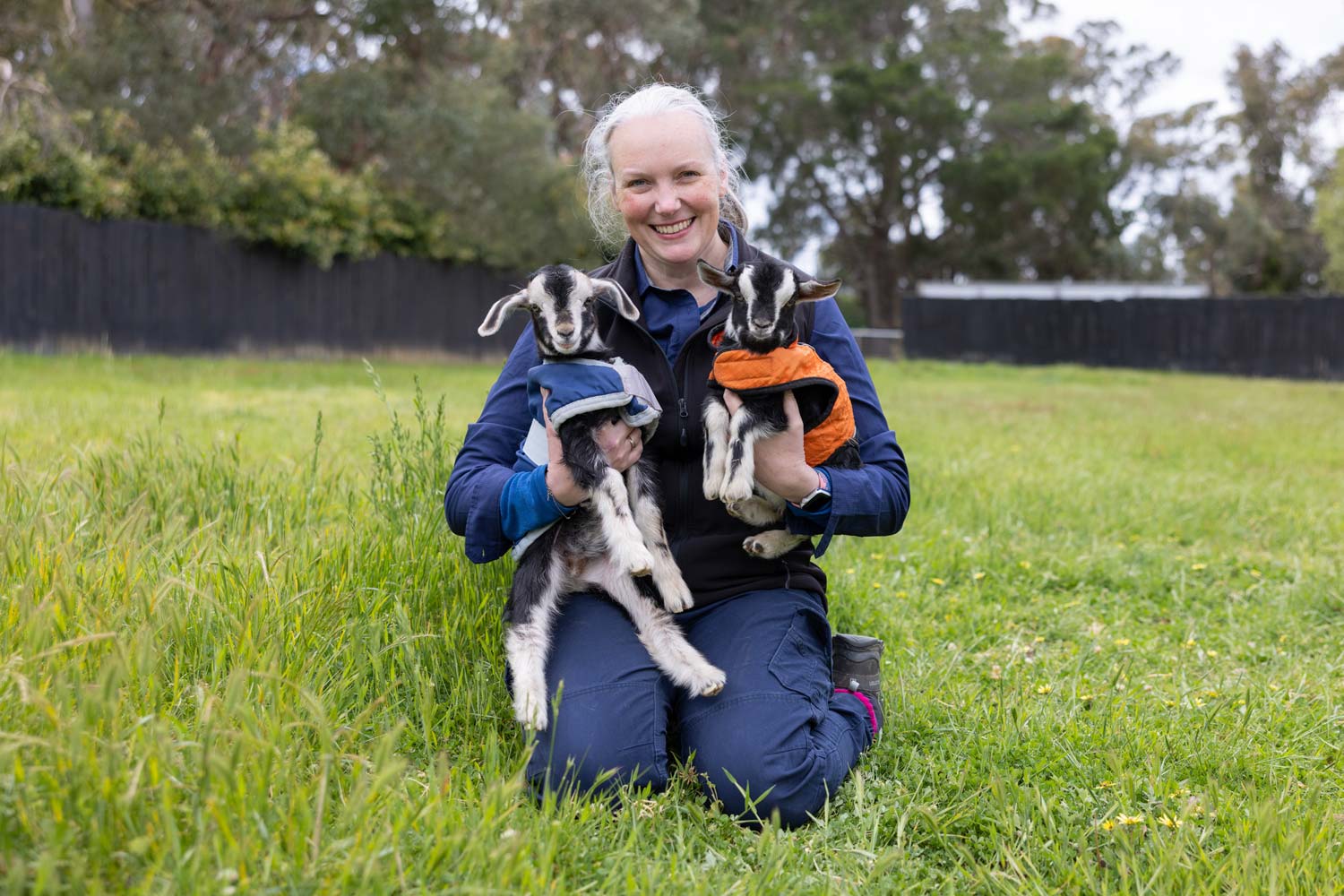 Staff
Bianca Romero
Sanctuary Experience Officer
Long before Bianca joined our team as Sanctuary Experience Officer, she always had a very special
bond with animals. A talented teacher, she always felt that something was missing until she found
her true calling at Edgar's Mission, a place that truly aligned with her strong values of kindness.
When Bianca is not hosting volunteer groups, training wonderful new volunteers or ensuring the sanctuary delivers the best possible experience for all who visit, you can find Bianca spending quality
time with the animal residents.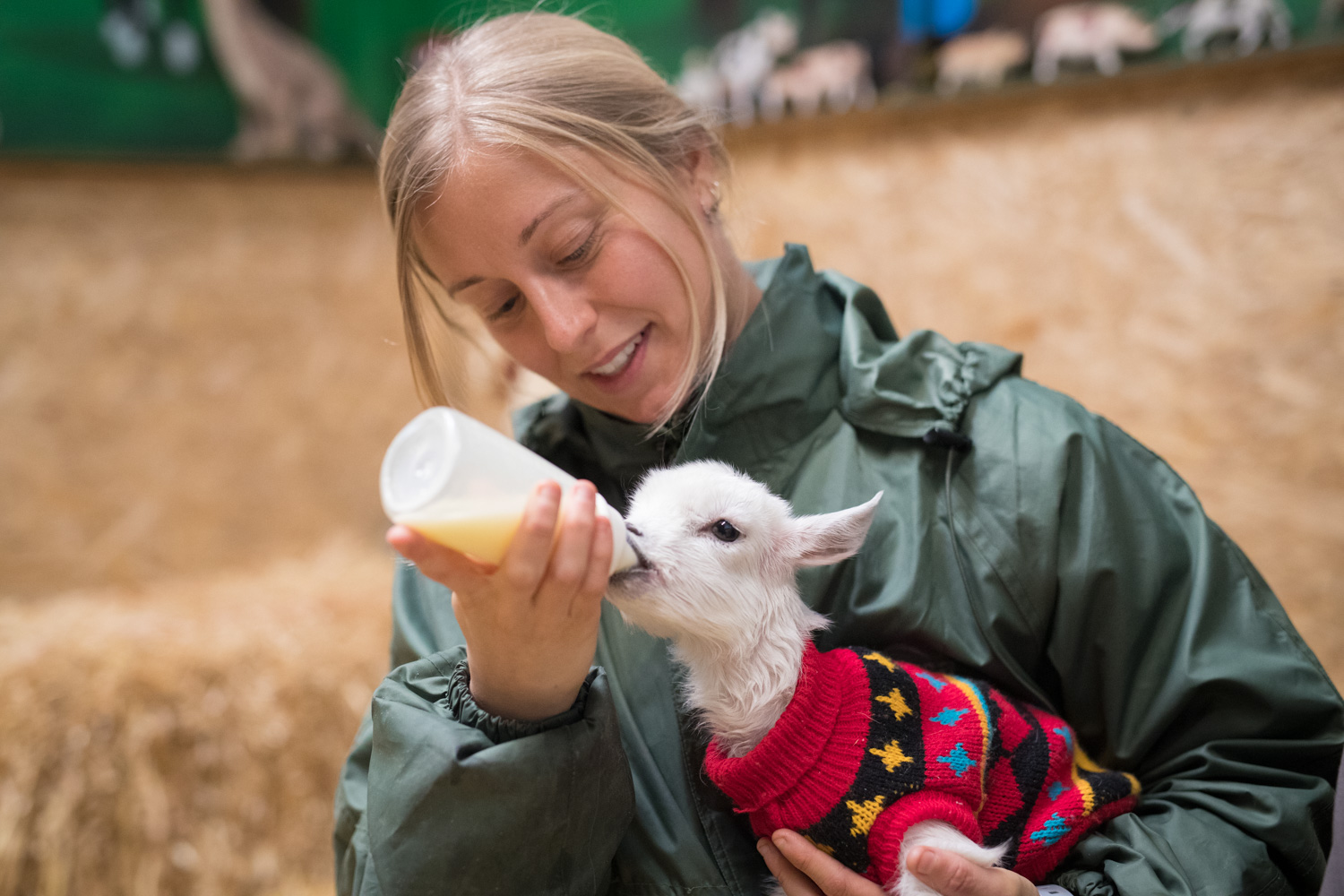 Staff
Richard Oglesby
Sanctuary Maintenance
Many are surprised to learn that our resident handyman Richard, who stopped eating meat years ago, is in his mid-70's and still going strong! A zookeeper in the 1970's and a groomer of show bulls at a stud farm in the 1990's, it was an encounter with Pam Ahern at a local farmers market in 2015 that saw Richard start out at the sanctuary.
With Steady Eddie the goat beside him, he's been inspired to make kinder choices, and hasn't looked back since!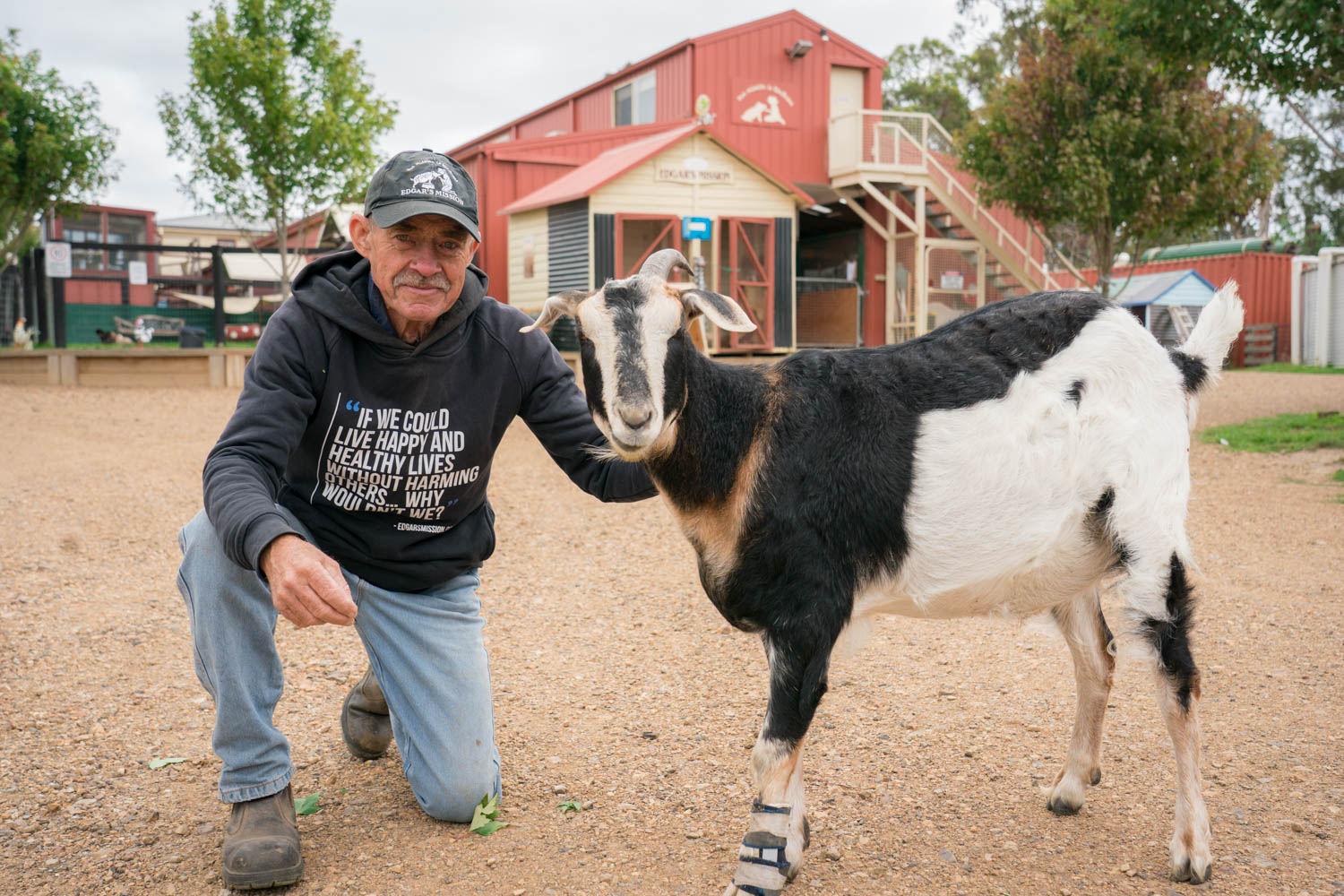 Staff
Jayde Thewlis
Sanctuary Hand
Growing up in a small town of dairy farmers alongside a range of different pets, Jayde's passion for animals was ignited. Completing a Bachelor of Zoology and Animal Science, Jayde went on to participate in a range volunteer experiences.
As a valued team member at Edgar's Mission, Jayde has learned new skills and has seen a whole new side to farmed animals, and loves getting to know their individual personalities and quirks.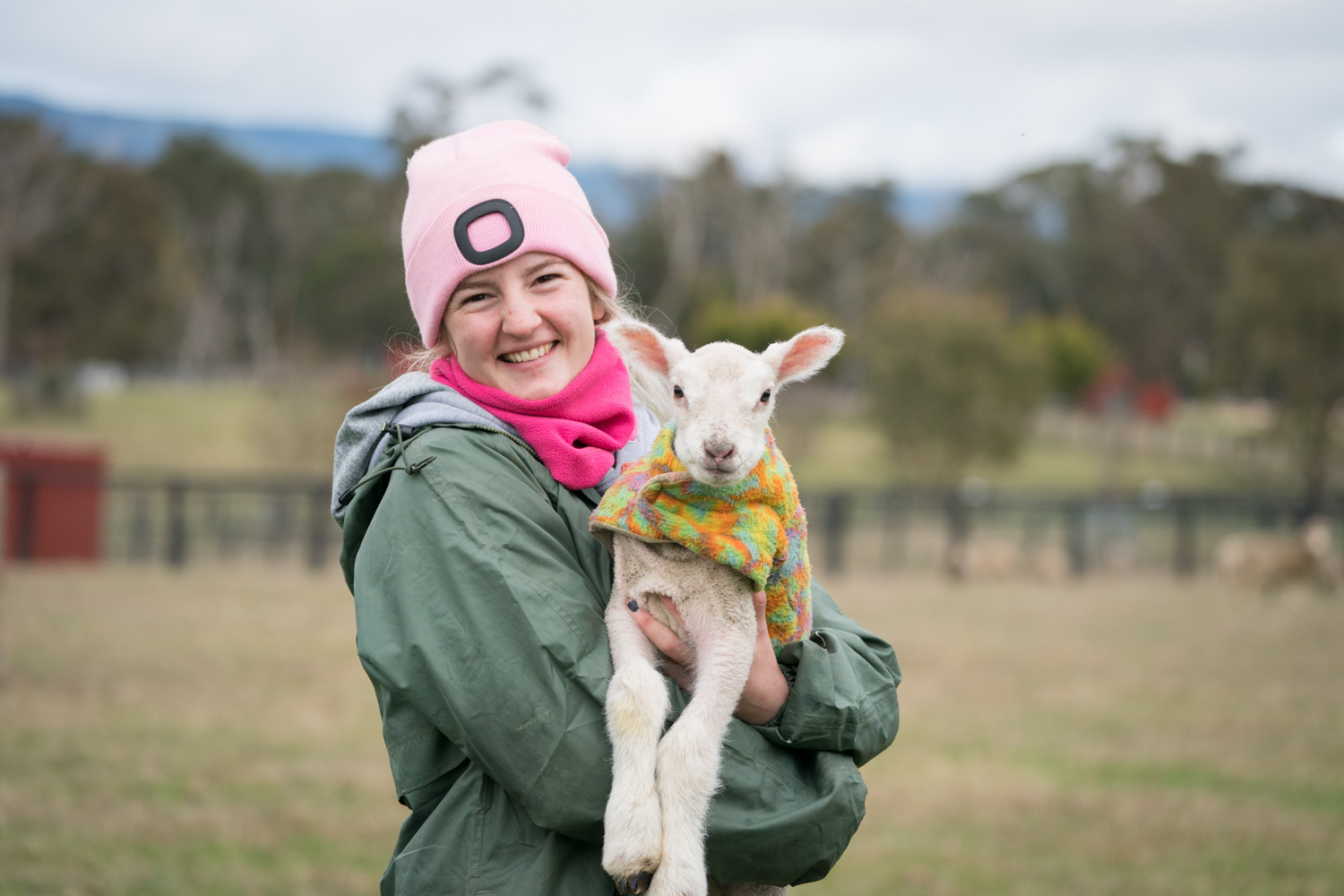 Staff
Ella Faragher
Sanctuary Hand
After growing up on acreage with an assortment of animals and loving her time outside with them, it was no wonder that Ella decided she wanted to work helping animals. Studying Veterinary Science with the aim of working with farmed animals, Ella soon realised she didn't want to work in an industry where the animals were part of a business and not seen as individuals.
That's when she found her perfect role as a Sanctuary Hand at Edgar's Mission, where she helps animals live their best lives every day.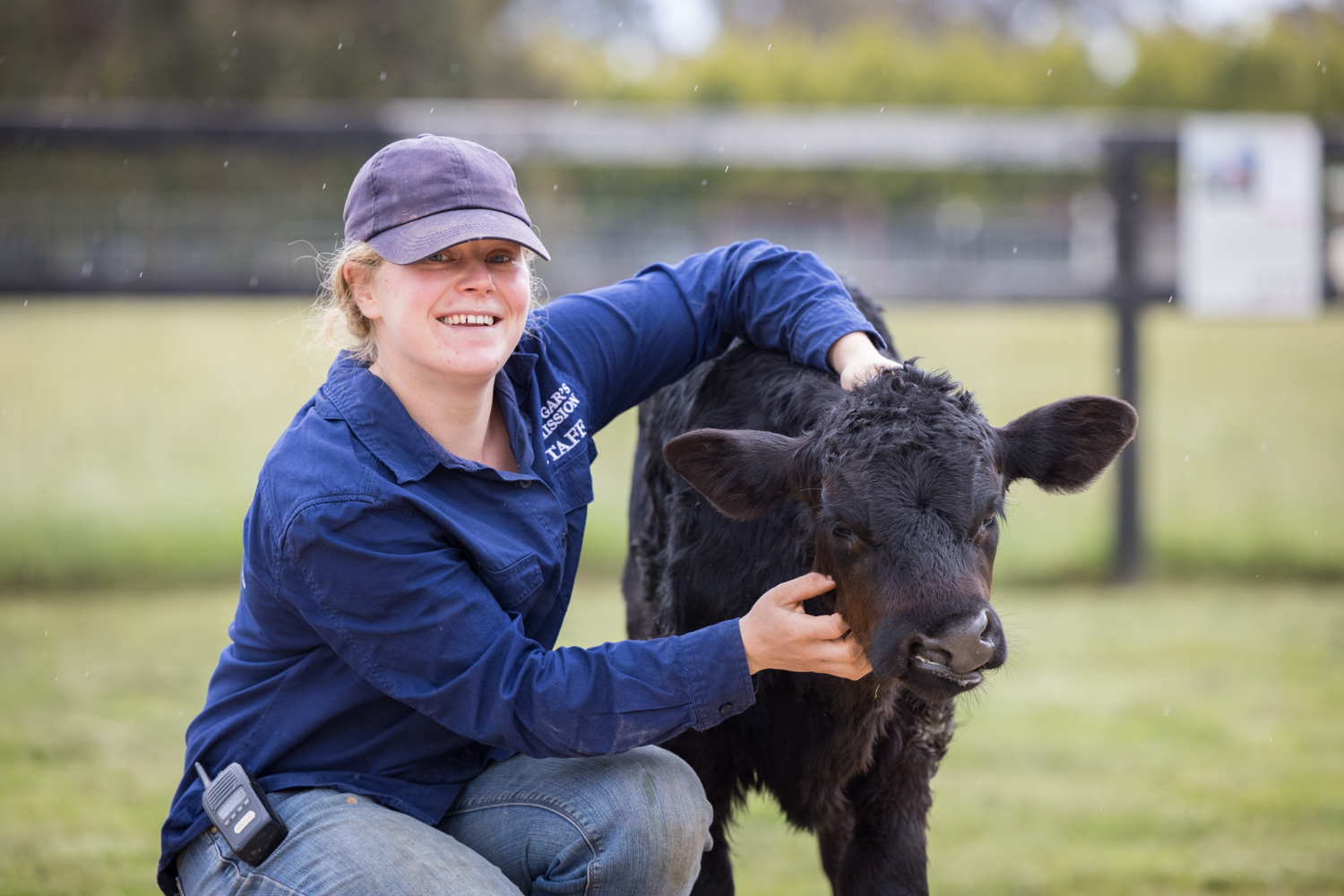 Staff
Justin Bratton
Sanctuary Maintenance
Meet Justin, a valuable member of our team at Edgars Mission. Justin's journey to our sanctuary has been as diverse as his own background. He brings a wealth of experience, having worked as a mechanic in the automotive industry and later transitioning into a career as a landscape gardener.
What initially drew Justin to Edgars Mission was our unwavering philosophy of kindness to all. His time working with our dedicated team has opened his eyes to the treatment and well-being of farmed animals, inspiring a deep commitment to their care.
Justin's love and respect for animals have deep roots, dating back to his early years. His ongoing passion for animals has only grown stronger. Through his work at Edgars Mission, he has developed a deeper understanding of farmed animals, appreciating their unique personalities and traits. One of his favourites is Roy, the goat, whose relaxed and laid-back personality mirrors Justin's own.
Justin's genuine compassion for animals makes him a cherished member of the Edgars Mission team!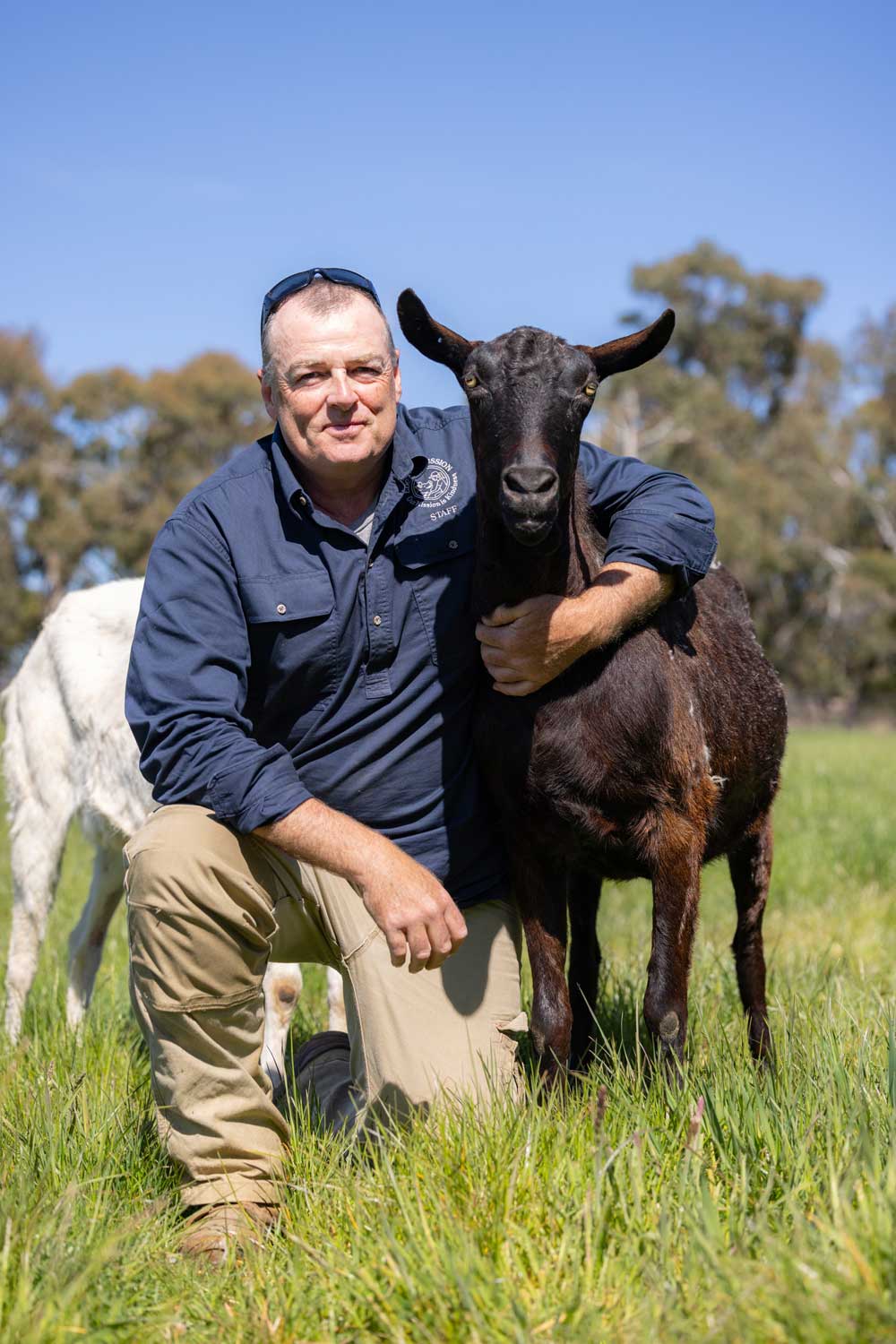 Staff
Bridie McLoghlin
Sanctuary Hand
An animal lover by nature, Bridie has dedicated most of her life to animal welfare. Bringing home stray cats who she found at her school, much to her parents' dismay, it is no wonder that she ended up working and volunteering to help animals! Although she doesn't like to play favourites, she has a real soft spot for Sadi, who was rescued with three of her piggy pals in 2018 after they were found severely emaciated in a forest.
Bridie continues to dedicate her personal time to animal-based volunteer work to this day, and when she is not caring for the residents of Edgar's Mission, you will find her assisting cats and dogs in need.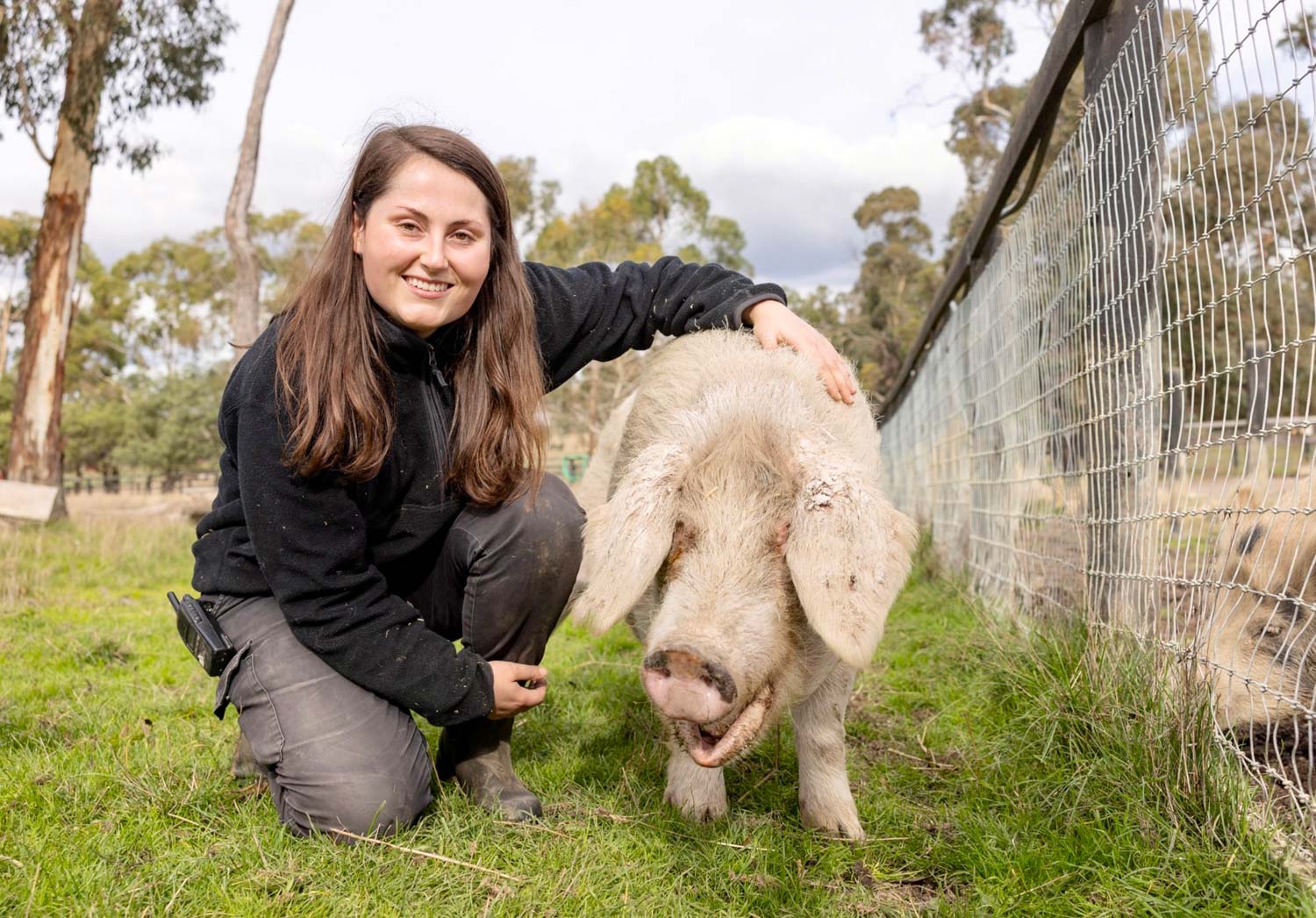 Staff
Daniel Lacey
Visitor Experience & Admin Officer
A lover of kindness and passionate about contributing to a more; just, fair, and compassionate world, Daniel made the connection as a teenager that "animals are here with us – not for us", and that "they deserve to live in peace from human harm". In his adult years, Daniel followed the path of becoming a musician and then an educator. He has been devoted to connecting to people as well as sharing his perspective and knowledge on things he is passionate about.
Daniel loves to take tours of the sanctuary to connect people with the individuals who live at Edgar's Mission through sharing their stories, as well as advocating for these animals in the information and philosophy shared promoting a kinder world.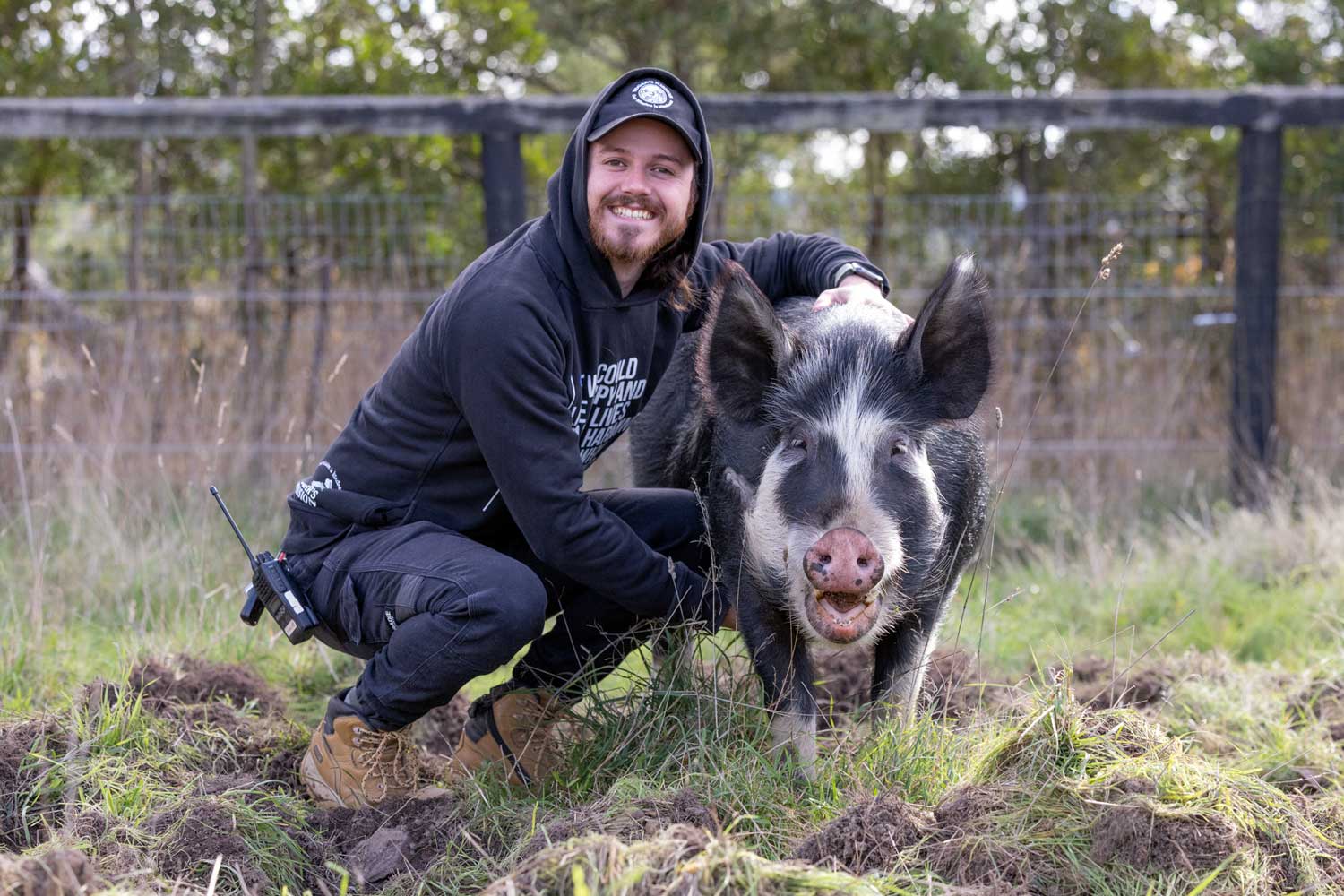 Staff
Chelsea Sammut
Sanctuary Hand
At Edgar's Mission, each team member has a unique story. Chelsea's journey intertwines love, education, and a heartwarming bond with a little lamb named Venice, affectionately known as "Spotty Pants."
As a child, while human connections sometimes evaded her, the unwavering loyalty of animals filled her life. This love drove her to pursue a Certificate II in Animal Studies, fuelling her passion to help animals.
At the sanctuary, Chelsea's relationship with Venice shows the kind connections that humans and animals can share. Whether he's running to greet her or falling asleep in her lap, Venice demonstrates Chelsea's belief that animals can indeed be our closest companions
Staff
Tracey Fregon
Bookkeeper
Tracey grew up around horses after being lucky enough to get her first horse at age 5. Rescuing those in need from bunnies to parrots, it is no wonder that today her brood has grown to 3 beautiful horses and 2 dogs who live on a small acreage with an abundance of bird life.
During her time at Edgar's Mission as our wonderful bookkeeper, she has hosted many a rescued baby animal in her lap, including a charismatic piglet named Calvin Swine, the keeper of many swooning hearts!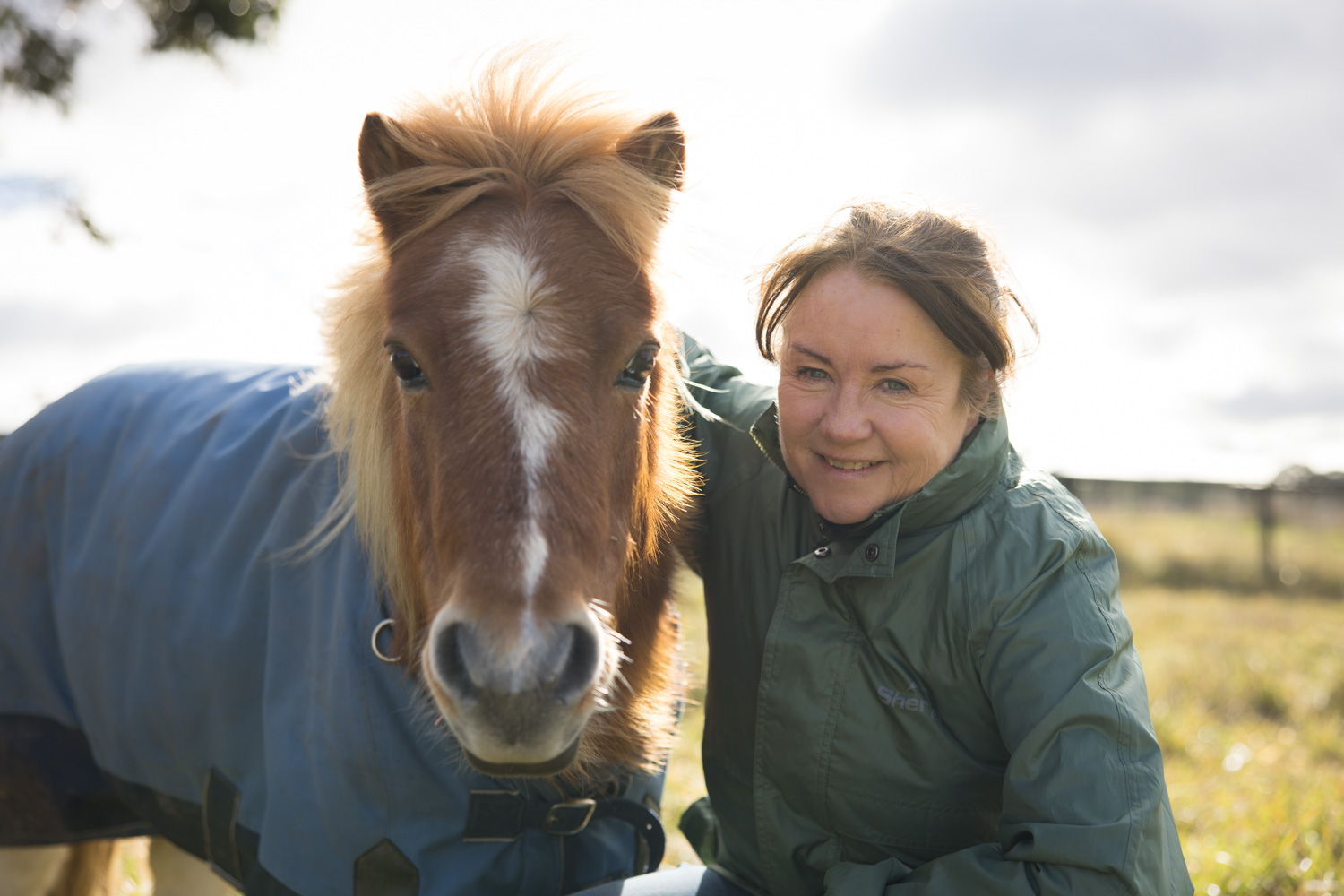 Volunteer
Vet Nurse Ruby
Vet Nurse and Tour Guide
Before her time at Edgar's Mission, Ruby's person didn't recognise her iridescent shine. Ruby was purchased for a pretty penny to perform sheepdog duties but didn't understand what was expected, she was only motivated by cuddles. Since starting work at Edgar's Mission Ruby has proven herself a more than valuable contributor, she has become part of the heart and soul of the sanctuary.
Ruby greets tour groups and visitors with copious love, comforts orphaned lambs and kid goats and provides comic relief whenever deemed necessary.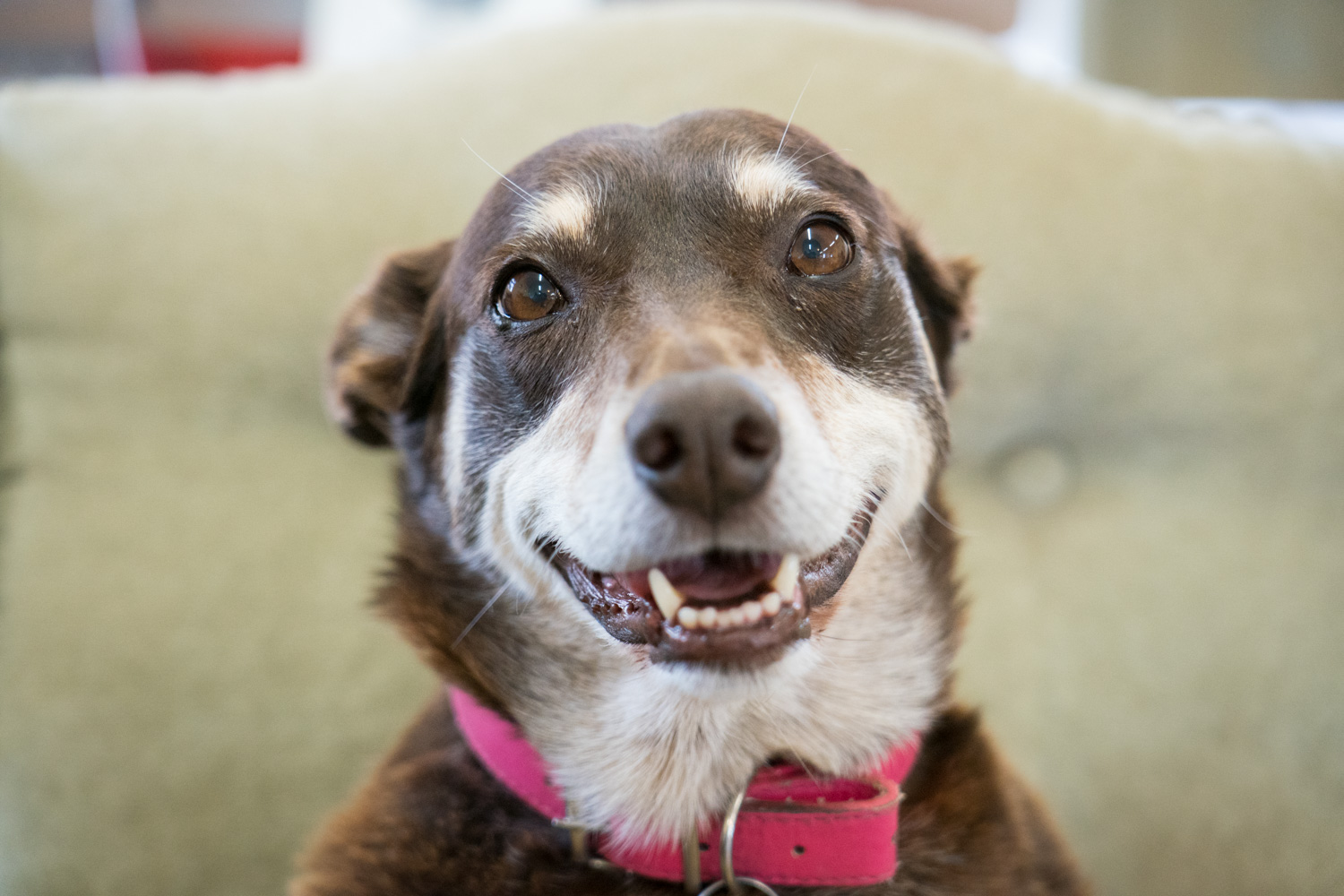 Job Openings
Set on 153 acres near Lancefield, Victoria, Edgar's Mission is a not-for-profit sanctuary nestled in the tranquil countryside of the Macedon Ranges.
Seeking to create a humane and just world for all, Edgar's Mission rescues and provides sanctuary to farmed animals in need, currently providing lifelong love and care to between 350 and 450 formerly farmed animals at any given time.
Through education, outreach, advocacy, community enrichment and sanctuary tours, we encourage and inspire people to expand their circle of compassion to include all animals.
What We Offer
Fantastic environment – spend your days doing what you love while working with a passionate and supportive team of caring and like-minded people.
Job satisfaction – feel proud about helping rescued farmed animals in rewarding roles that bring excitement and variety every day.
Good remuneration – enjoy above award rates, with uniforms and wet weather gear supplied along with excellent staff facilities.
To Apply
If you have the skills and experience for our positions below, we want to hear from you! Please see details of how to apply under each role below.
Edgar's Mission is an equal opportunity employer who celebrates diversity and is committed to creating an inclusive environment for all employees.
Currently there are no open positions. Thanks for your interest and please check back again soon.