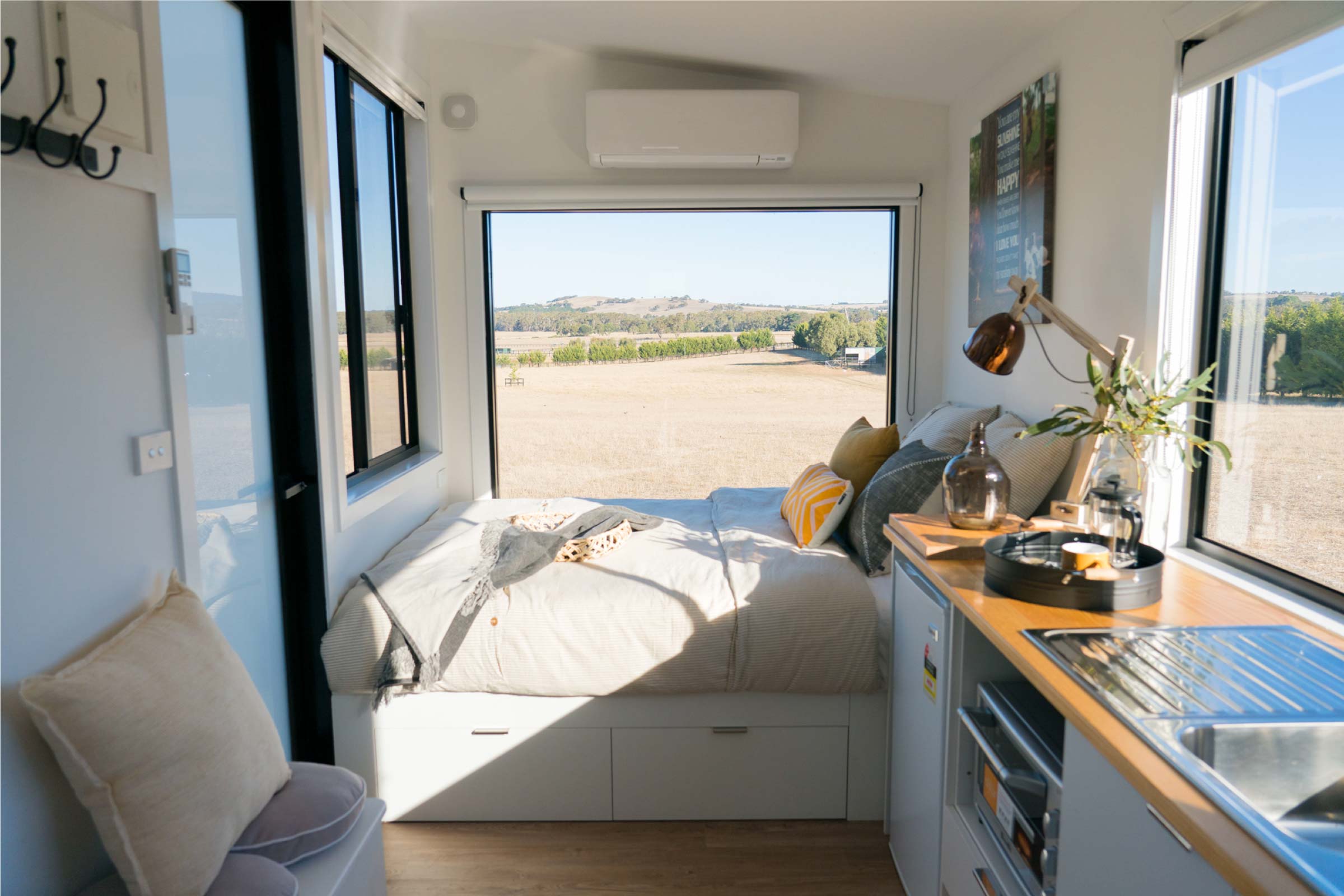 Stay
Tiny Houses
Wake up to this!
Enjoy the ultimate sanctuary retreat with a stay at one of our tiny houses. Overlooking the rolling hills and rescued animals of Edgar's Mission, you'll enjoy an immersive and environmentally-friendly experience you will never forget.
Tiny Houses for Big Hearts
Offering a unique animal lovers retreat, Edgar's Mission is excited to announce the much anticipated reopening of their sustainable tiny house accommodation, offering an eco-friendly country getaway amongst rescued farmed animals.
Designed for couples and singles over 18, you'll enjoy an immersive experience at the sanctuary during a weekend stay, which includes a guided tour to meet some of the rescued animal residents. 
Thoughtfully designed with sustainability and style in mind, Edgar's Mission's tiny houses offer visitors a cosy and serene retreat. Each meticulously crafted with a focus on energy efficiency and reducing carbon footprint, they incorporate renewable energy systems to ensure a truly eco-conscious experience.
Guests will have the unique opportunity to wake up to breathtaking views of the sanctuary, surrounded by rescued animals who serve as constant reminders of the power of kindness. From friendly sheep to playful pigs and curious cows, every interaction promises to be a heartwarming and unforgettable experience.
Each tiny house has kitchen facilities, a toilet and shower, and is partly solar-powered. The stylish interiors feature products sourced from companies who share Edgar's Mission's values of non-harm and sustainability, including Bhumi organic cotton linens and organic toiletries.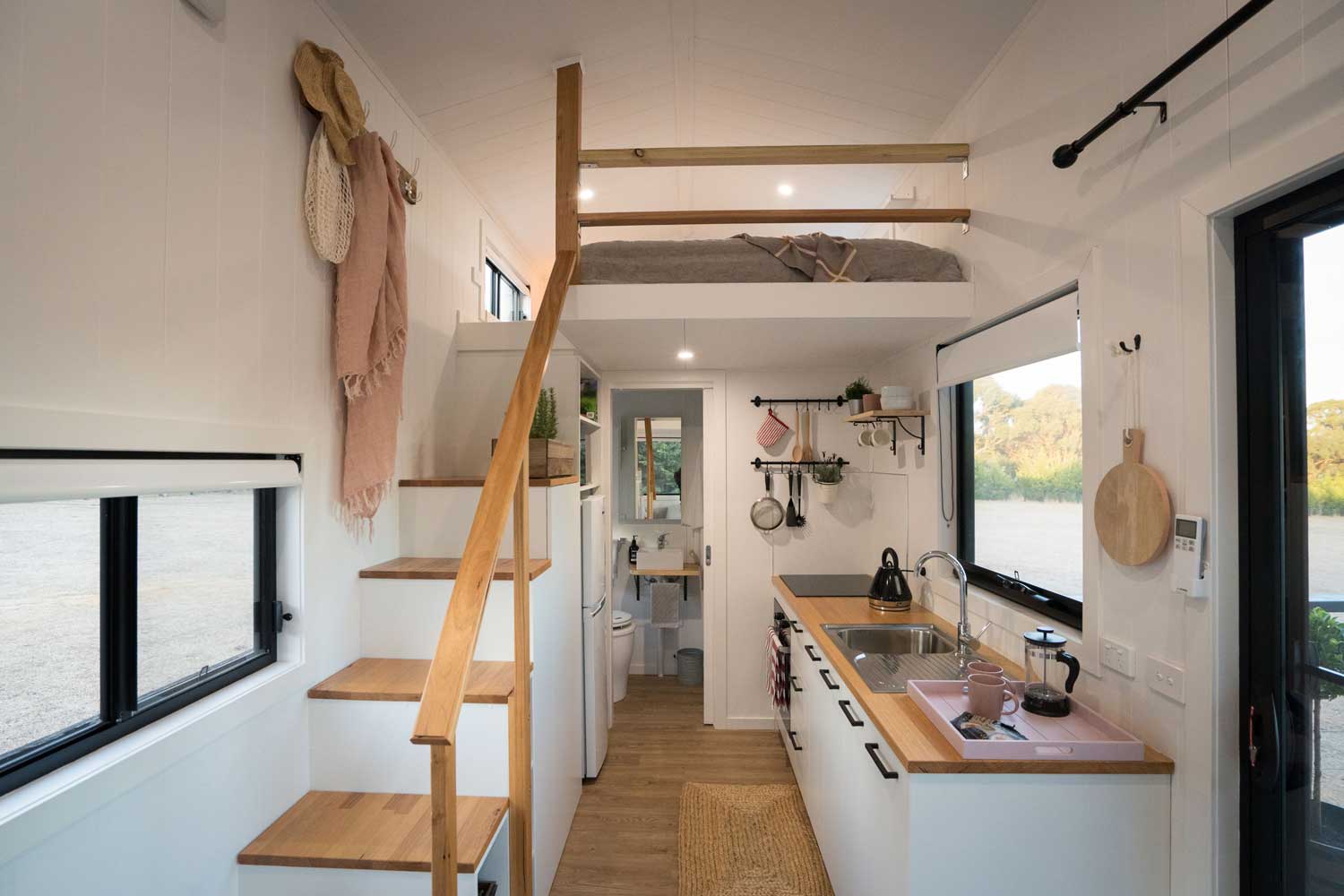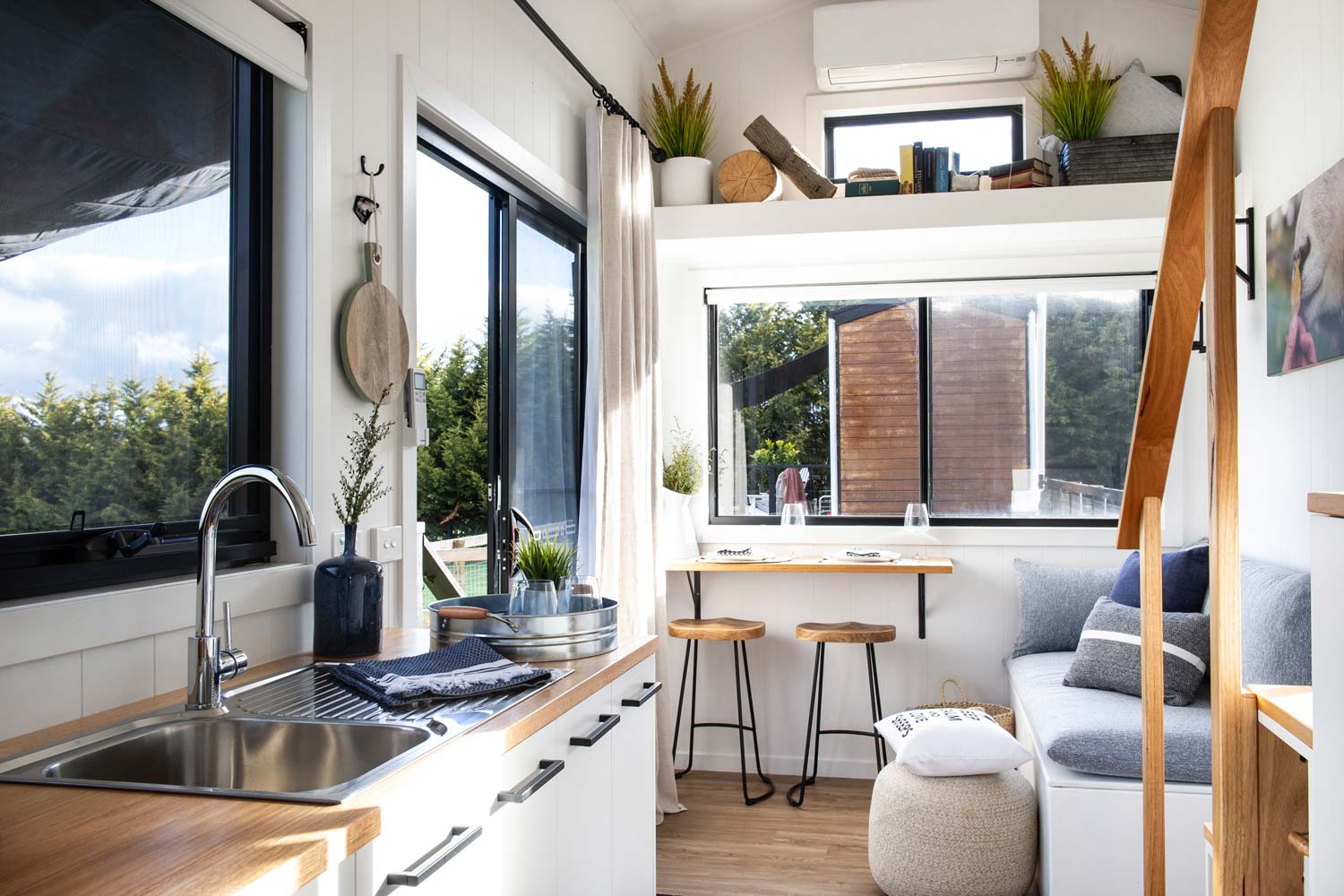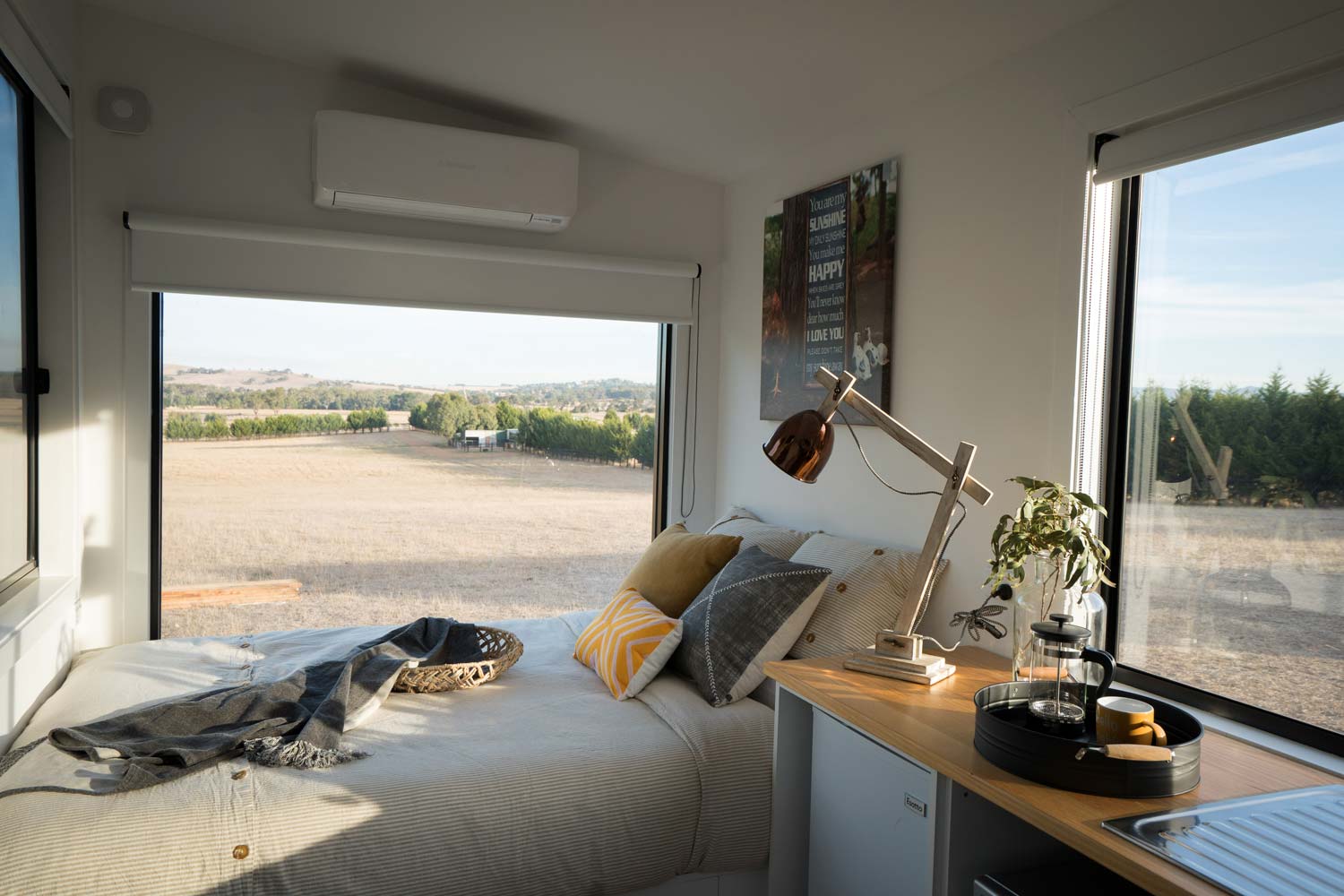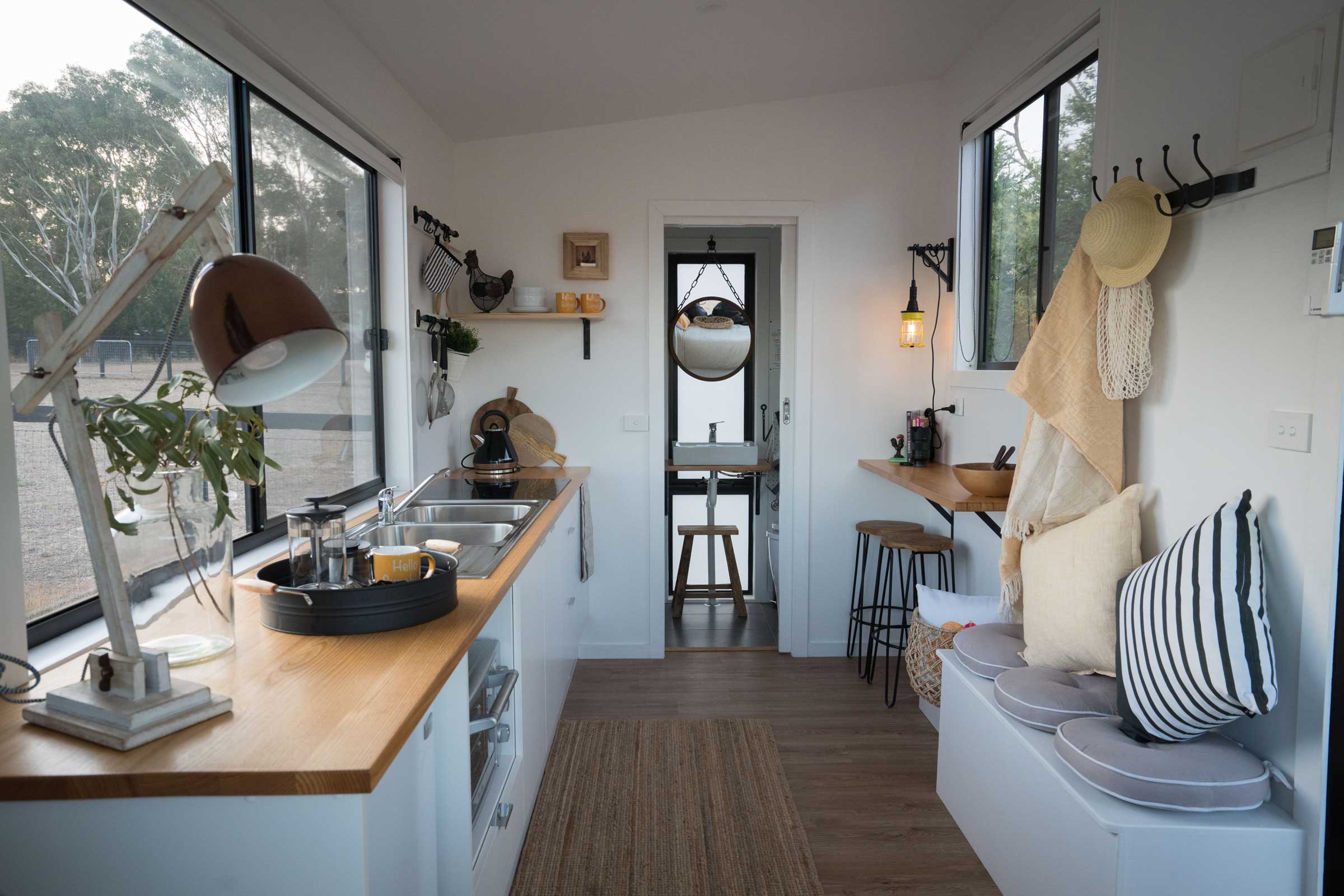 Thoughtfully designed spaces
The interiors are directly inspired by the animals, with each house themed around a famous past resident of the sanctuary. Edgar Alan Pig's tiny house is furnished in pink, black and greys; Little Miss Sunshine, the ex-battery hen, is represented in her house by warm browns, greens and golds. And then there's Timmy the sheep's tiny house, which includes a library.
Metals, concrete and rope, materials traditionally associated with industrialised farming practices and the confinement of animals, have been re-purposed  and integrated into the interiors, creating an industrialised farmhouse look but also reflecting the system the sanctuary's animals have been saved from.
Each tiny house has a deck with sweeping views, and it's a short walk to the sanctuary grounds, with over 400 rescued animal residents.
Get up close and personal with our rescued animal residents on a guided sanctuary tour, visit the charming township of Lancefield, or take a drive to explore Hanging Rock or Mount Macedon during your stay.
Please note that due to safety and insurance reasons, all tiny house stays are available for a maximum of two adults aged 18+ only, and unfortunately we cannot accommodate children or companion animals. We regret that no exceptions can be made.  Thank you for your understanding