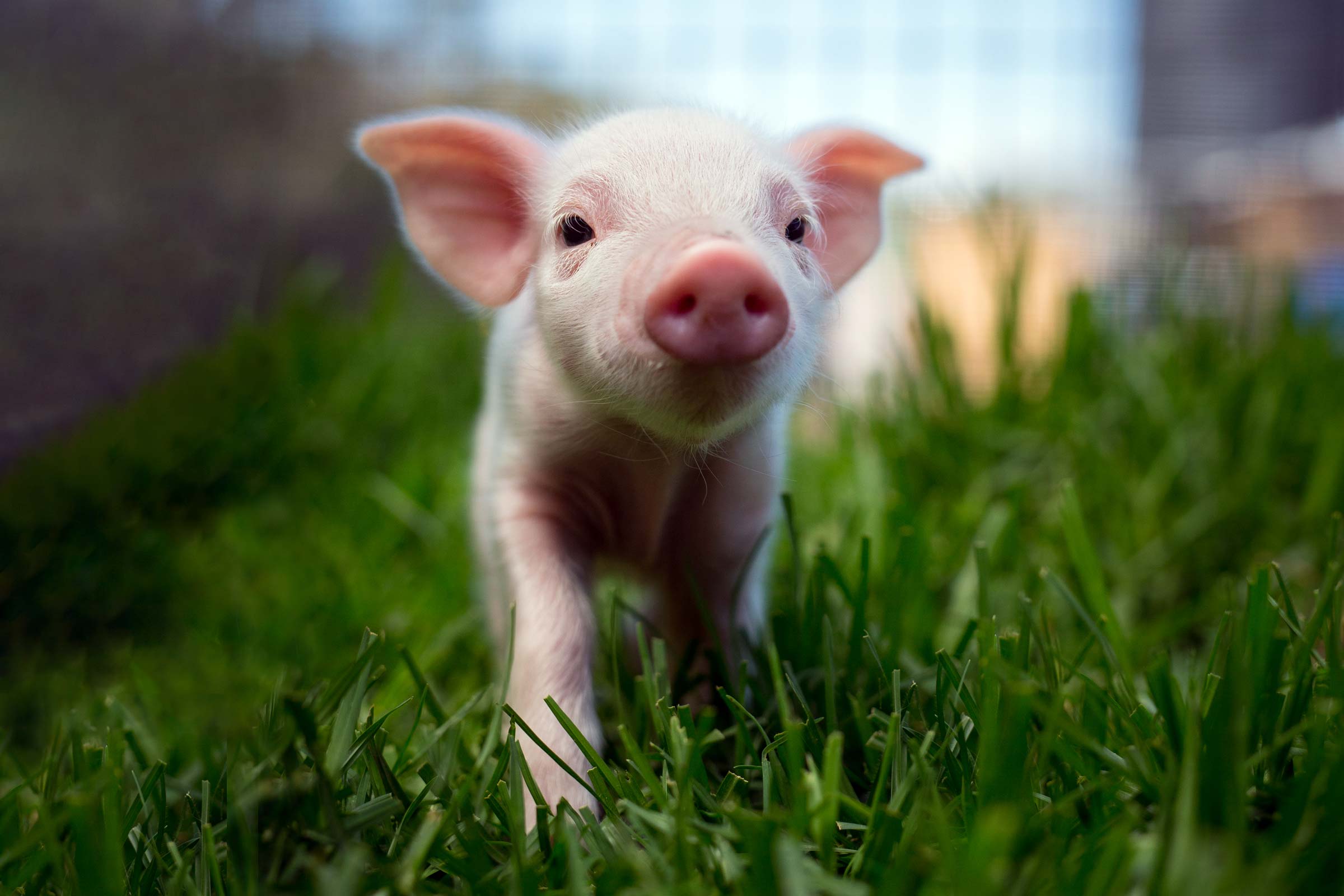 Campaign
Make it a Kind Christmas
For all this festive season
You can make an enormous difference in the life of pigs, turkeys and lambs by what – and not who – you choose to eat and buy this festive season.

Explore delicious recipes, and check out our gift guide and free resources here!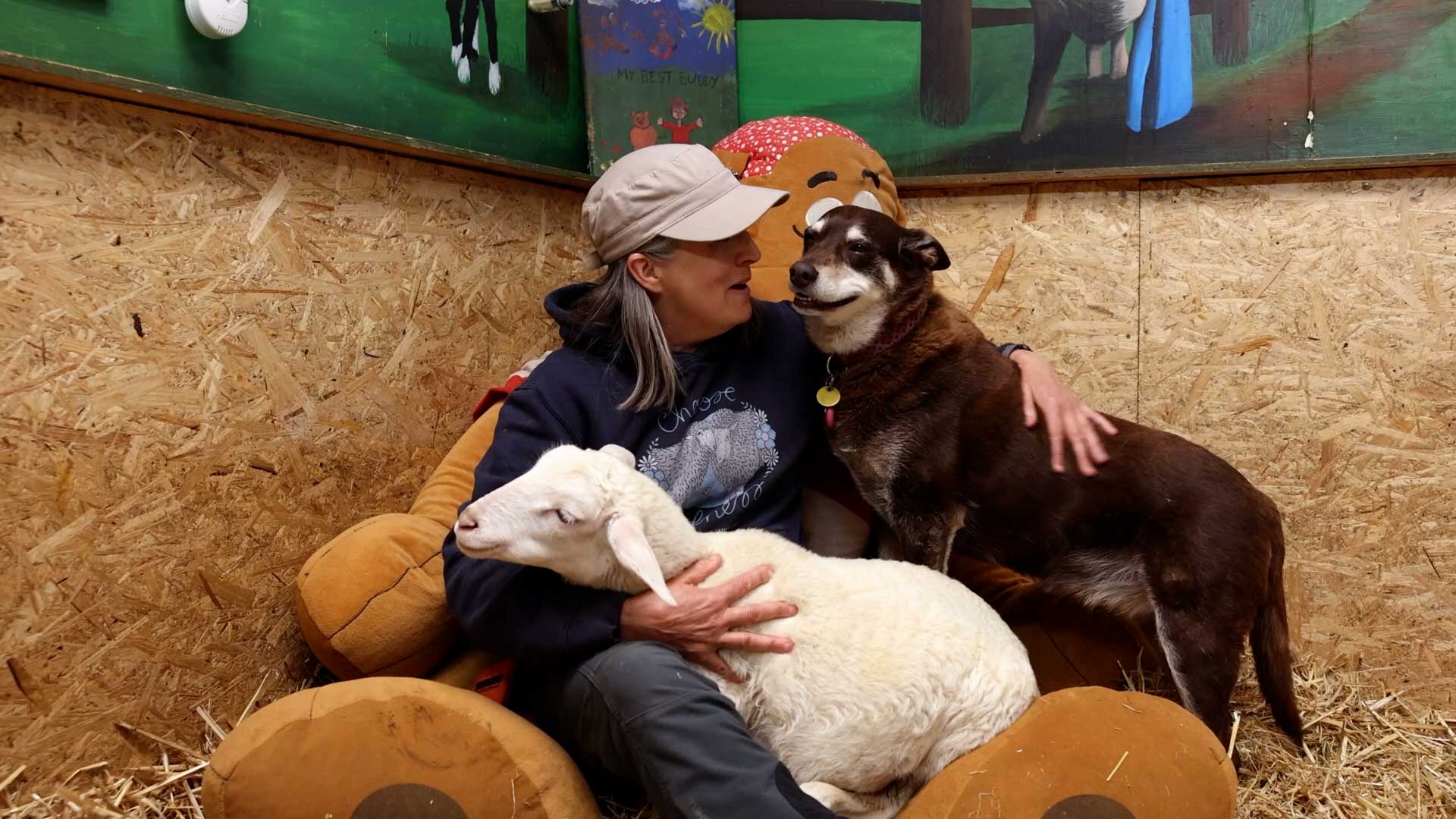 Why a Kind Christmas?
Christmas is a time shared with loved ones, often including the family dog or cat. But other animals with the same capacity to feel can suffer immensely for it.
Behind every leg of ham or lamb, roast turkey or chicken, there's an animal who feels joy, fear and pain. They respond to kindness, and value their friends.
All animals deserve to live free from harm, regardless of the way they look.
A kinder world starts with you!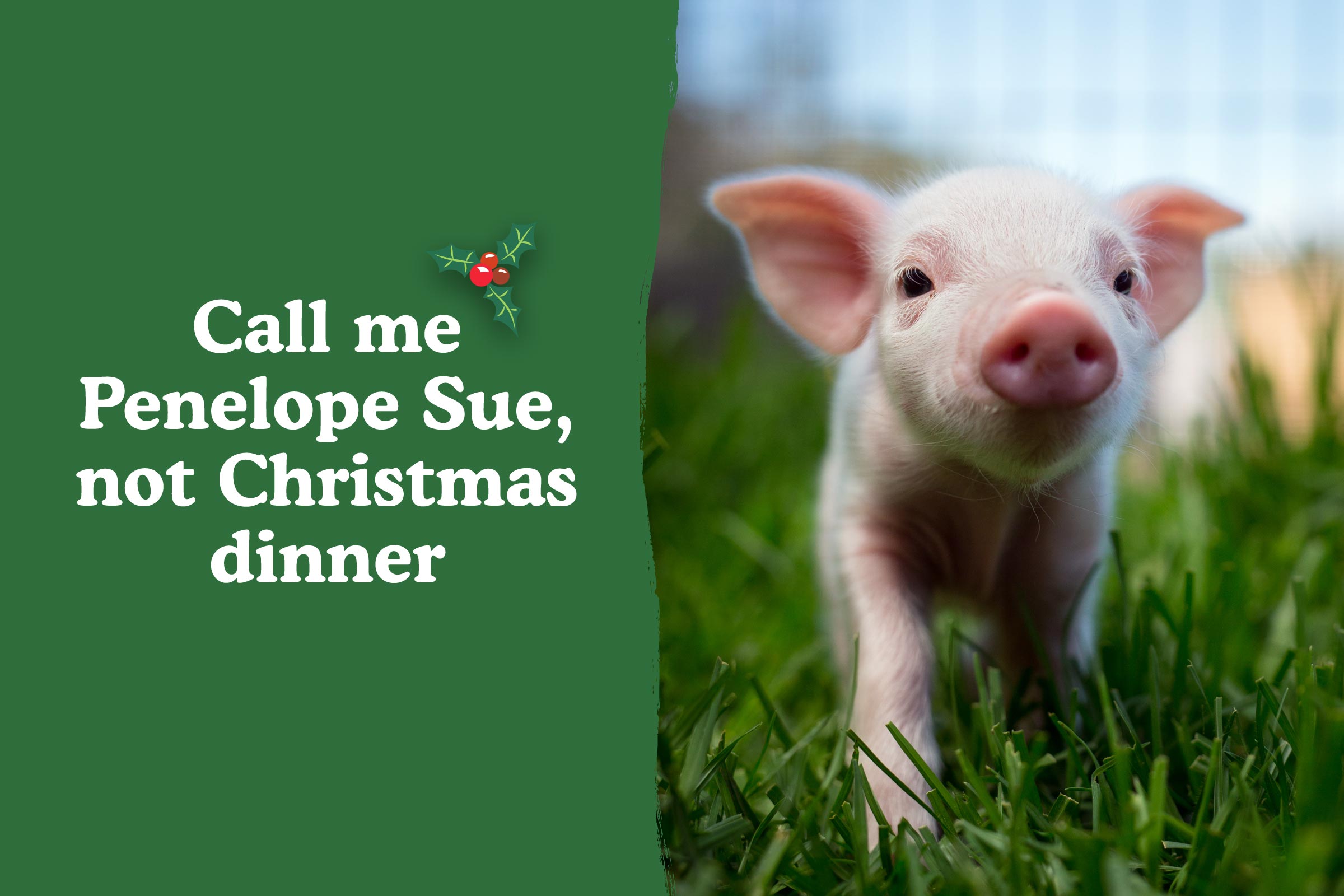 Meet the Animals
The formerly farmed animals who were given a life truly worth living thanks to kind humans like you.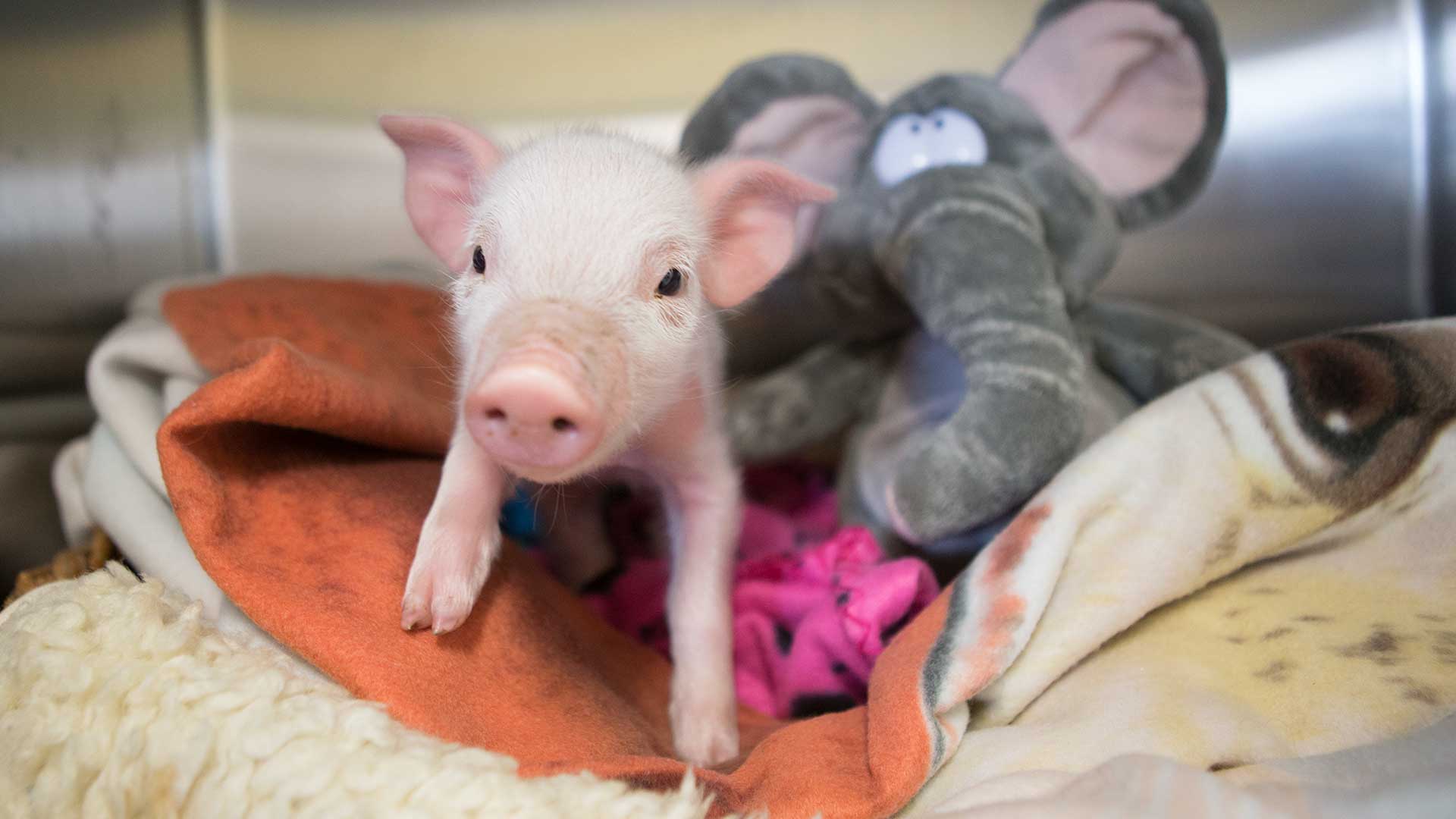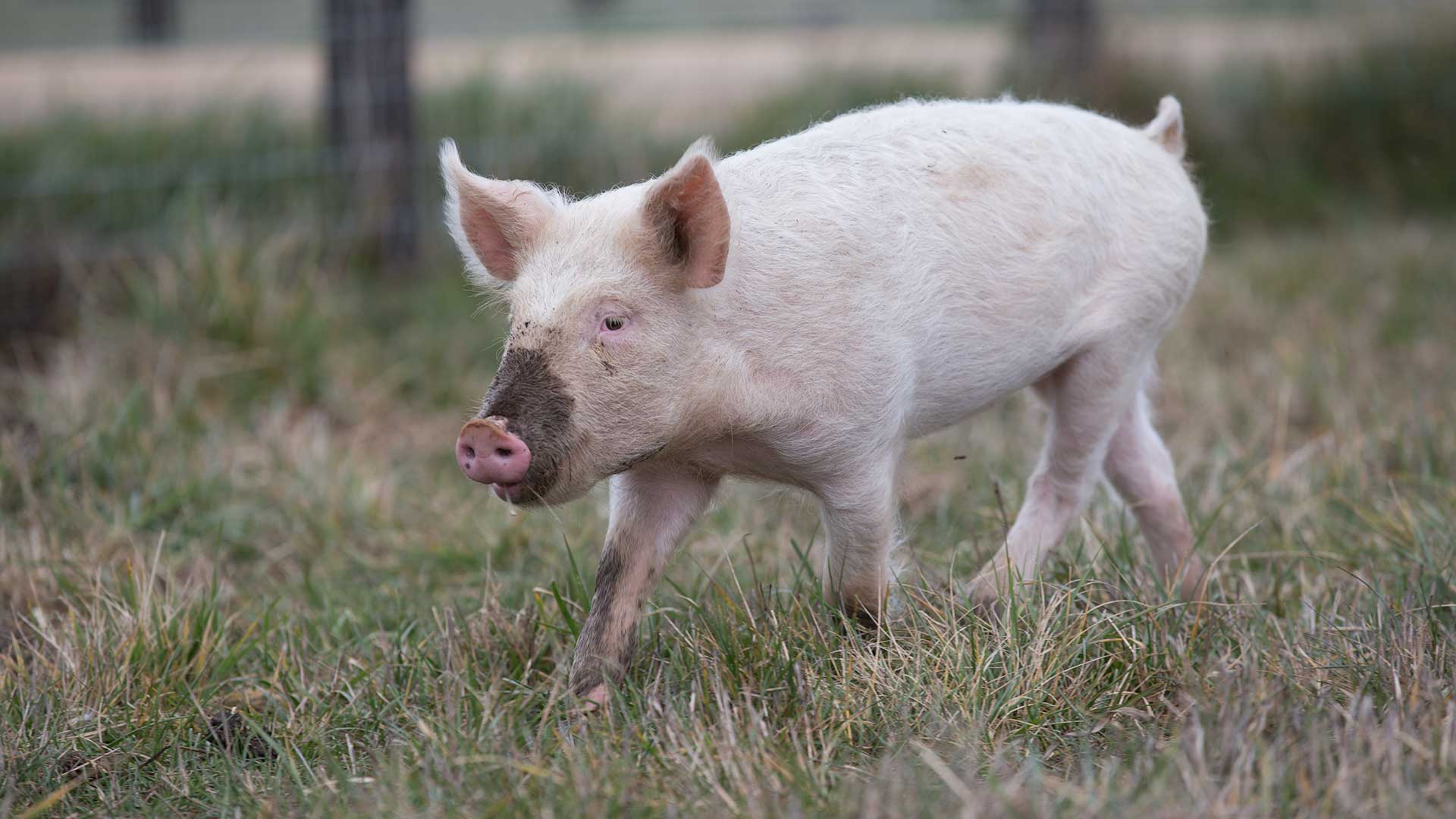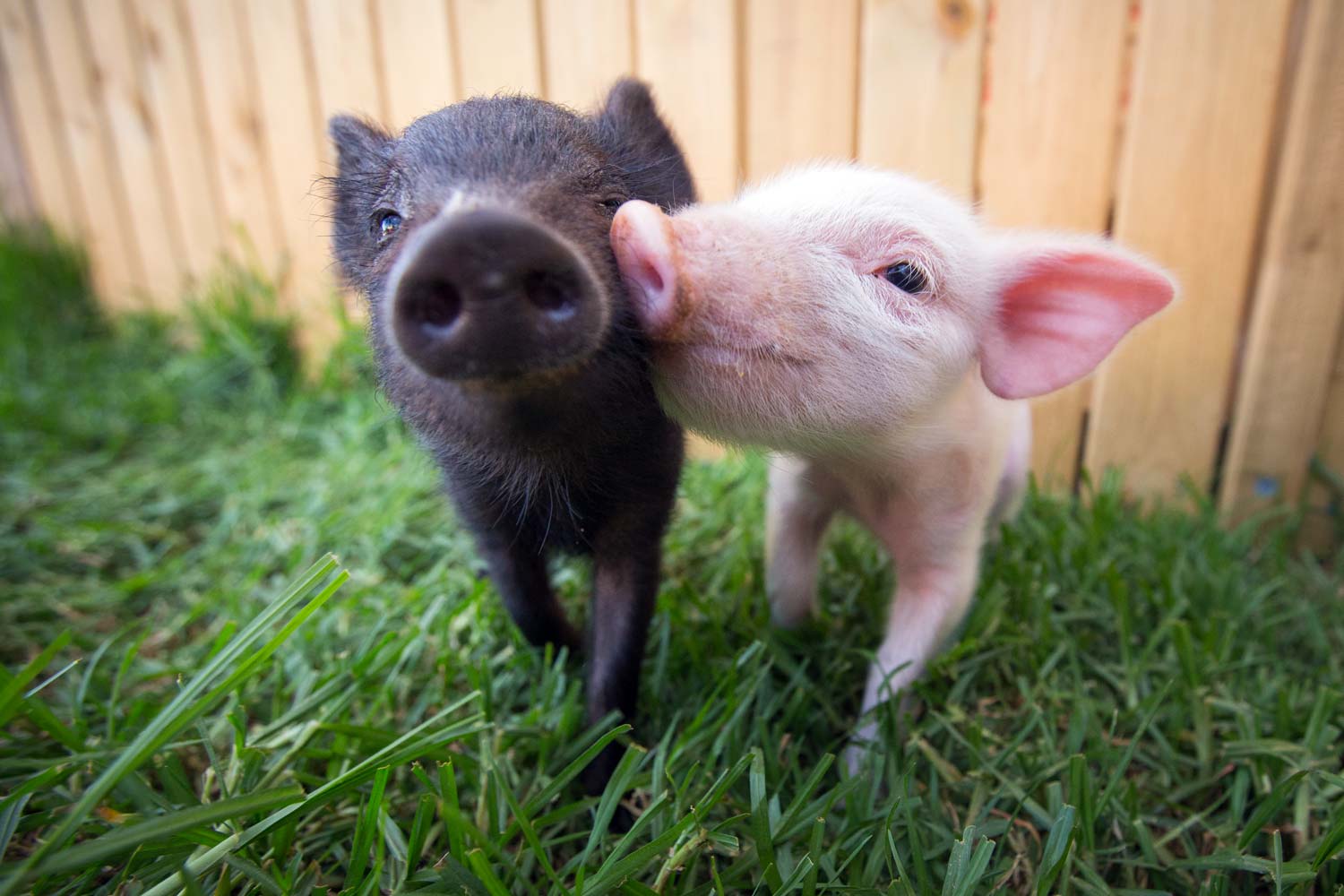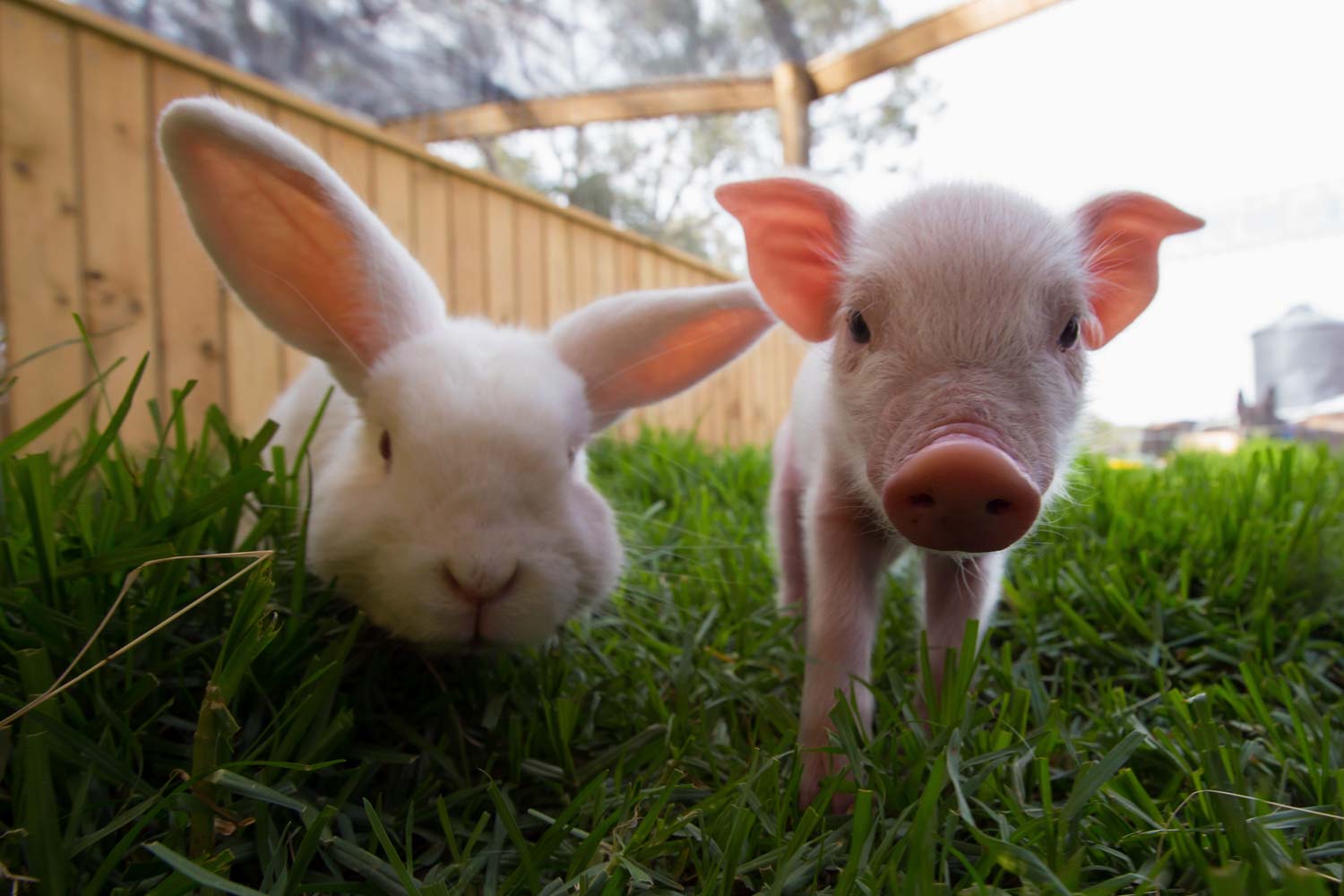 Penelope Sue
Born into sanctuary after her battered mum was rescued, Penelope Sue was the tiniest of her siblings and needed some extra love.
With kindness, she blossomed into the intelligent, fastidiously clean, fun-loving, and affectionate pig she had the opportunity to become – an opportunity denied to so many other pigs whose gruesome destiny is determined by the food production industry.
But you can help change that!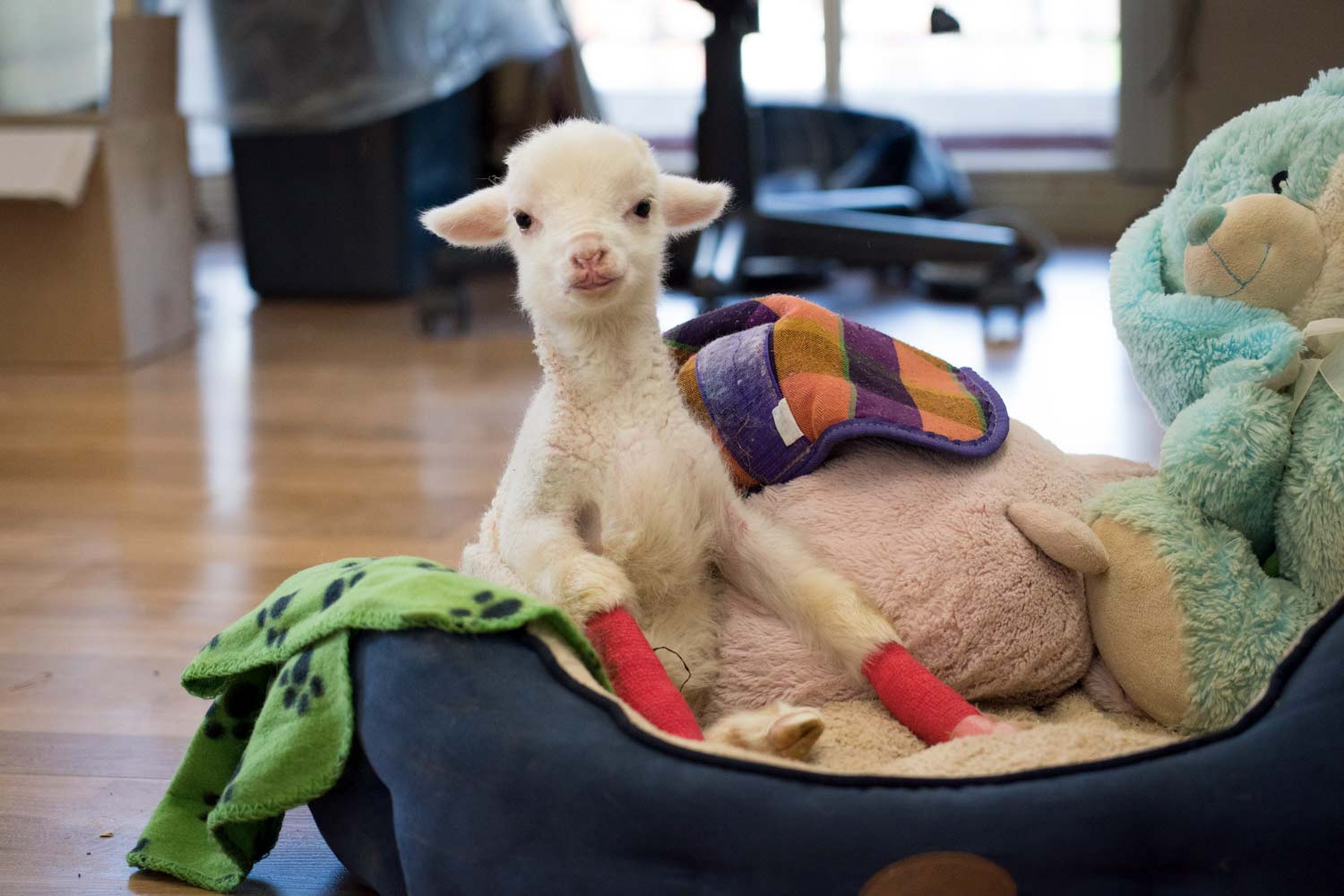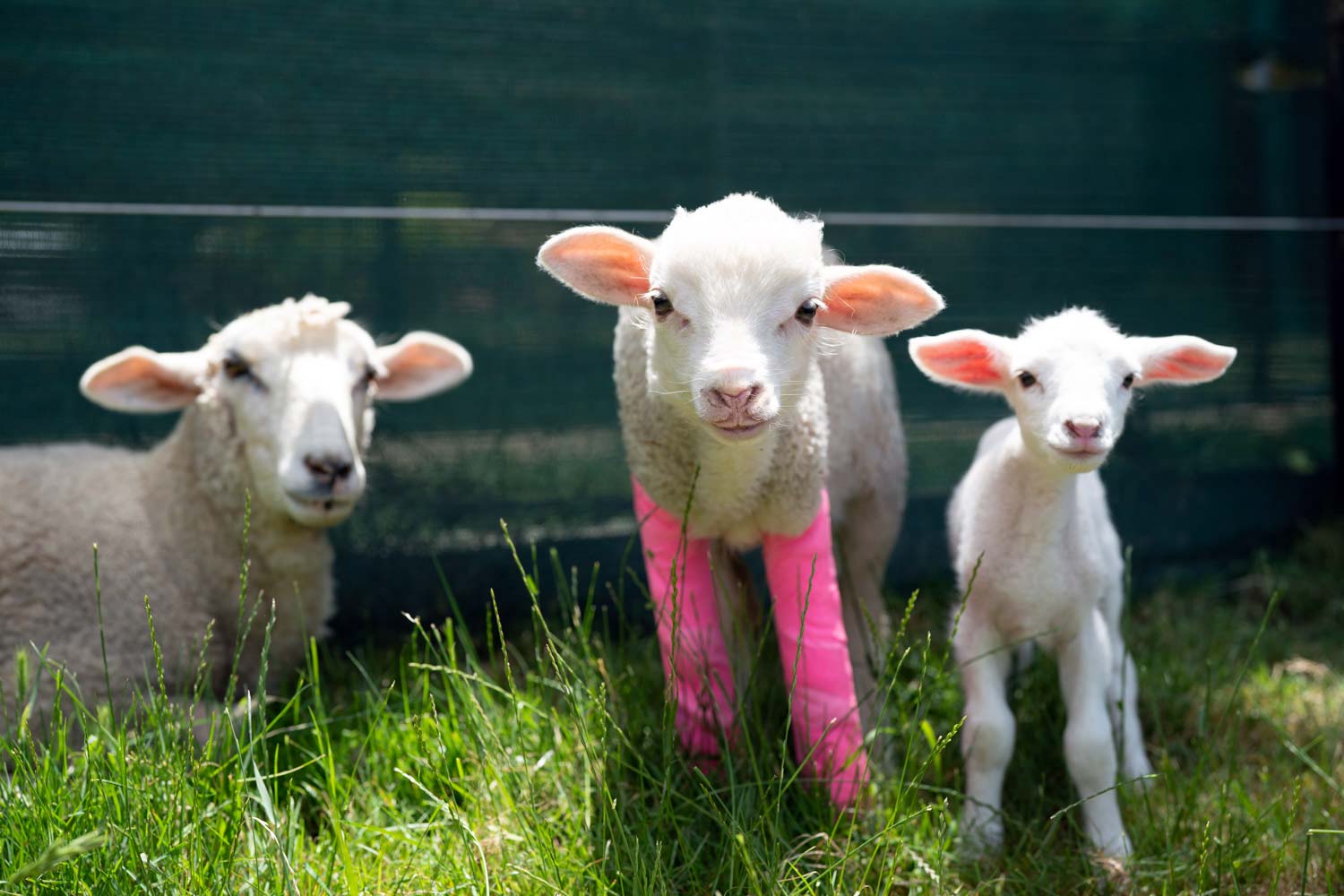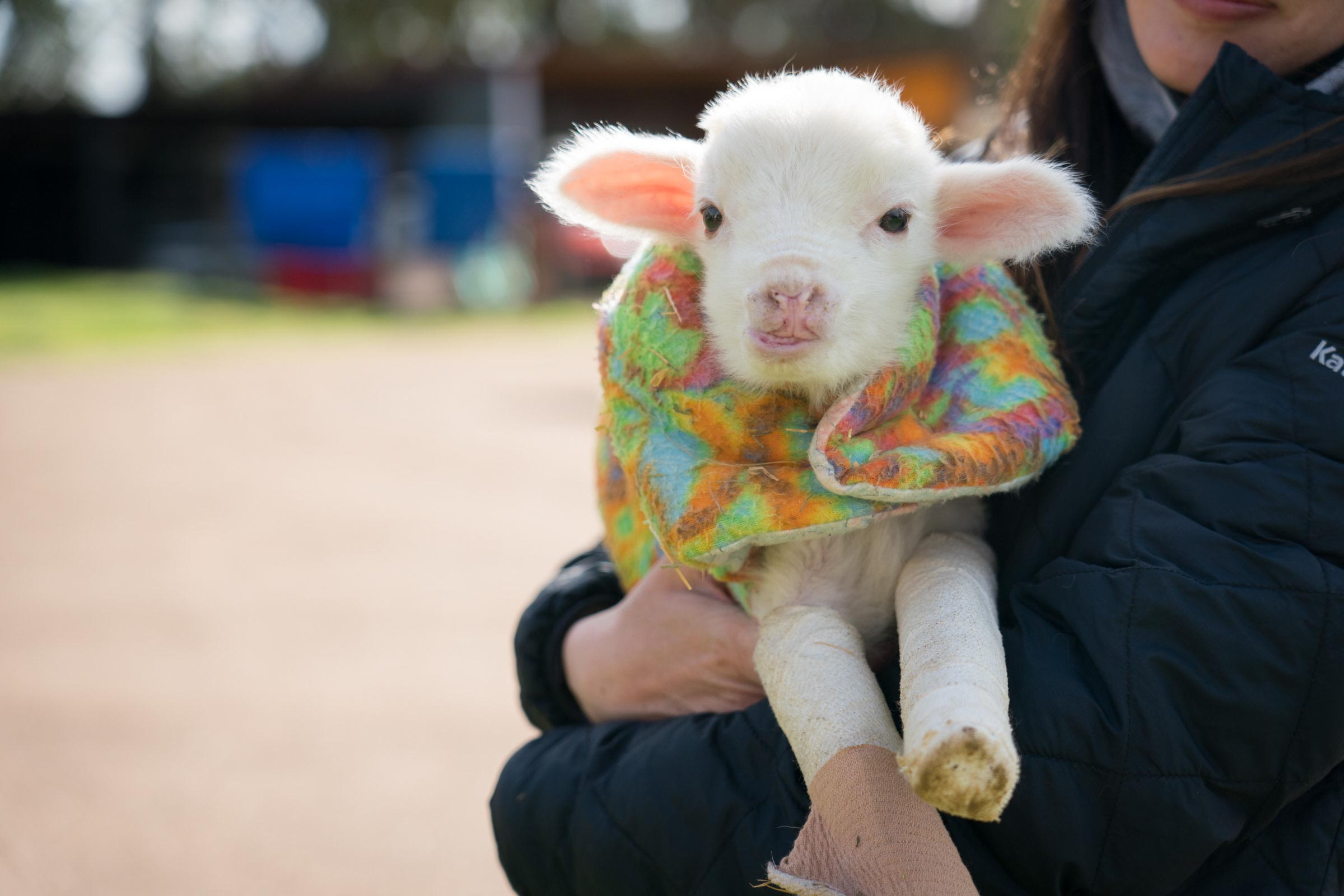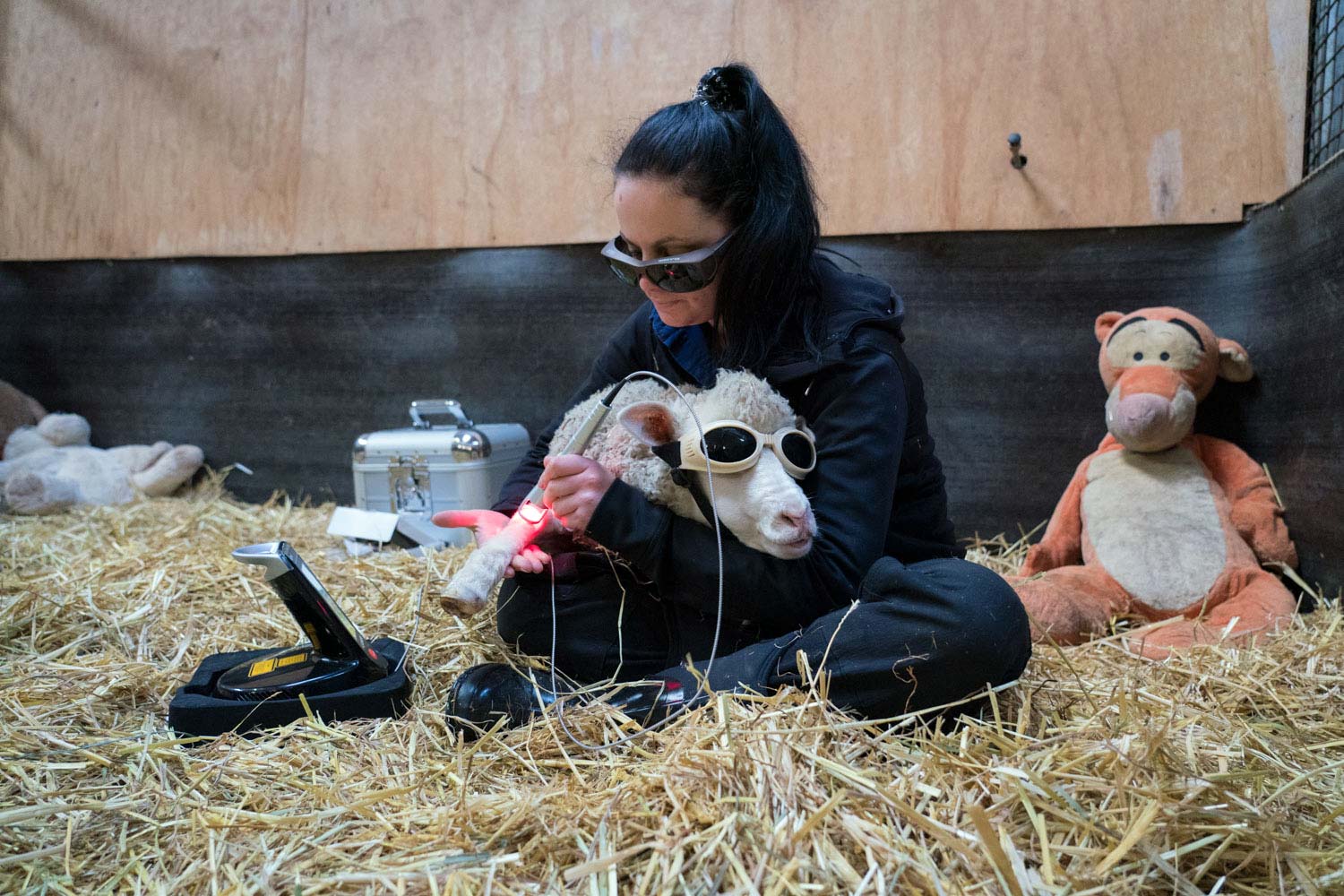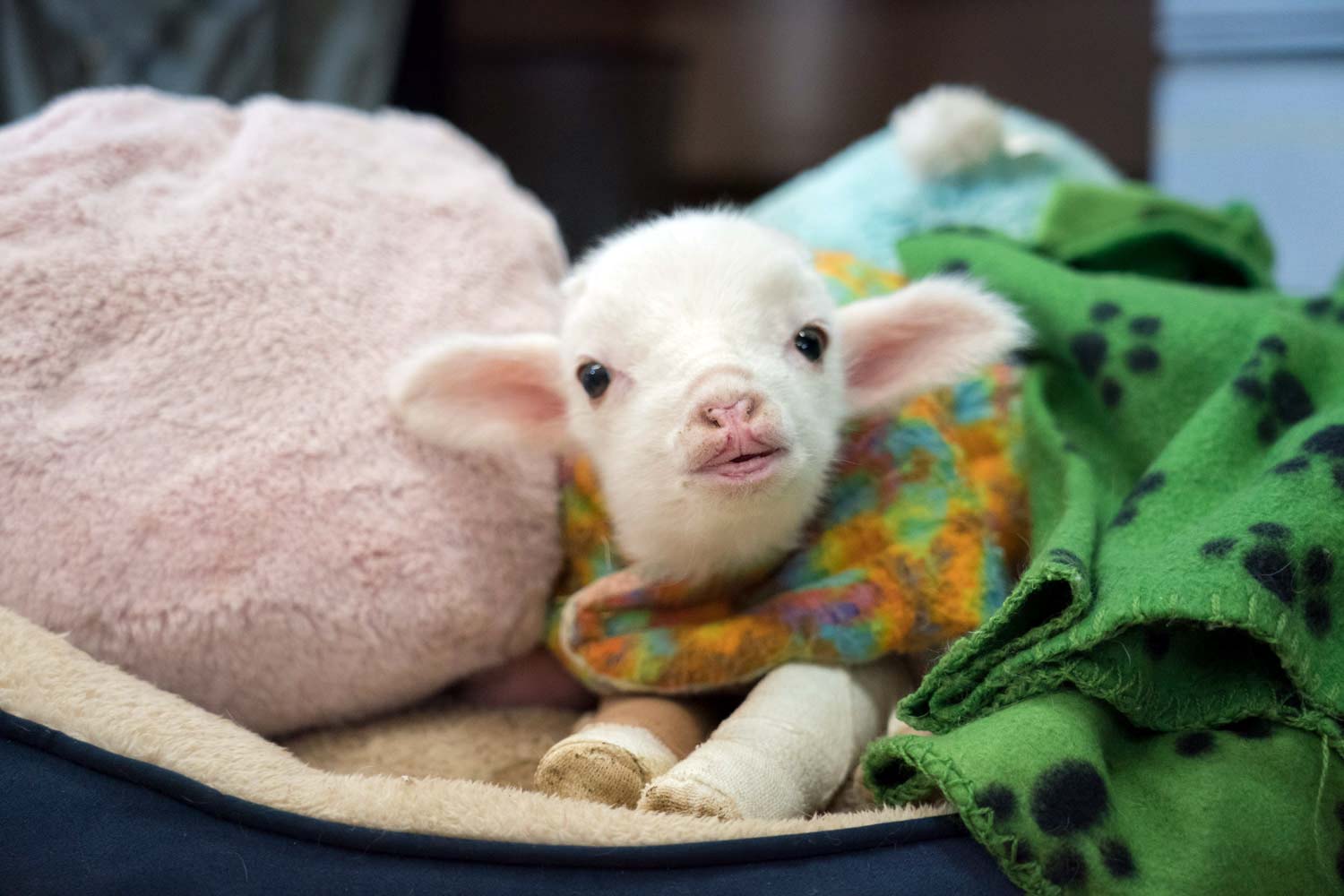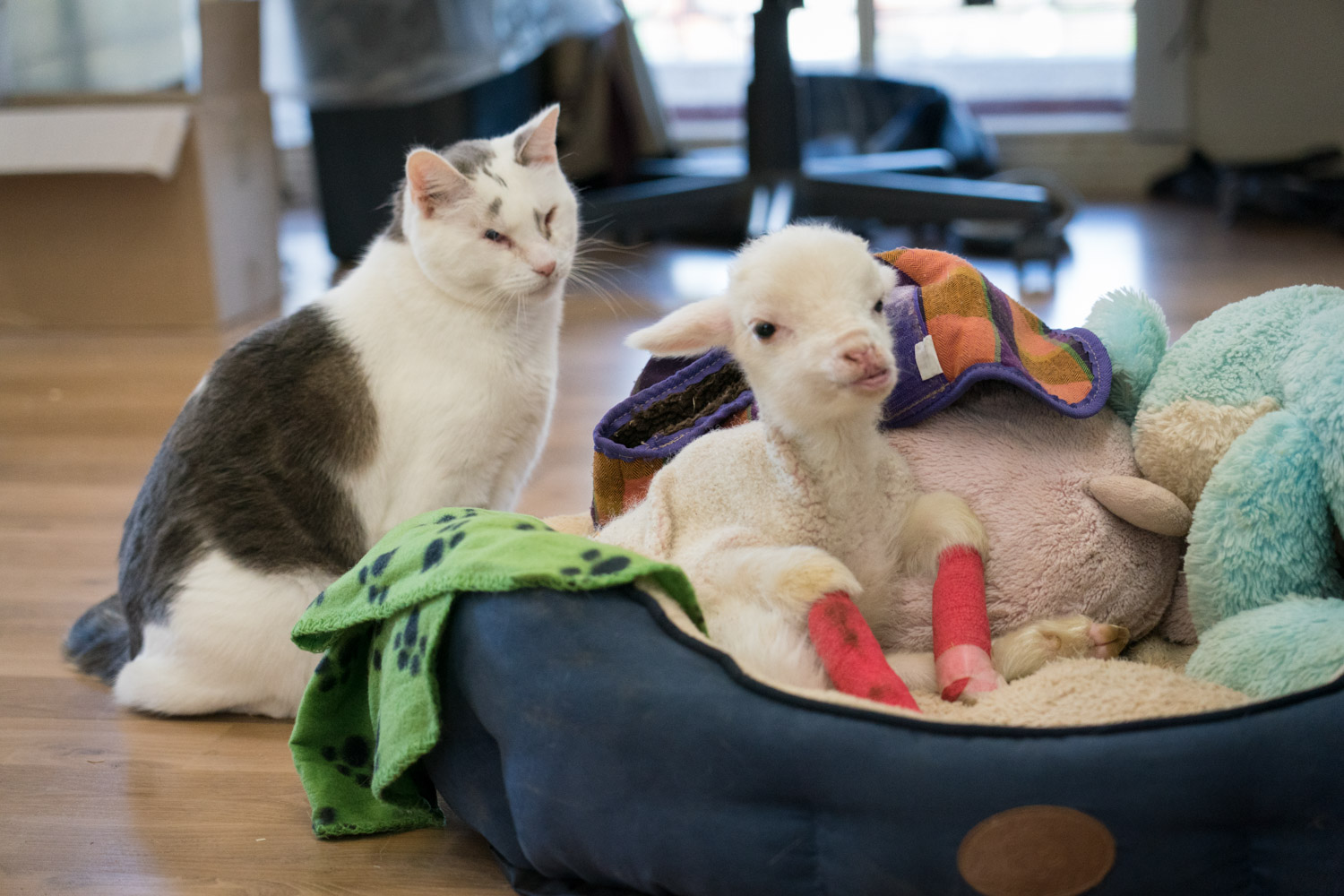 Harmony
Born premature with limb deformities, gentle Harmony was surrendered by a kind heart who saw her for the courageous little lamb she was.
With Harmony's tiny legs set in splints and she set in our hearts, her determined spirit and will to live was unmistakable.
Harmony teaches us that the powerless are precious.
And whilst we can overpower her kind in so many ways, and we can profit from and exploit them, we too can also choose not to. And when we do, we reach the pinnacle of our humanity.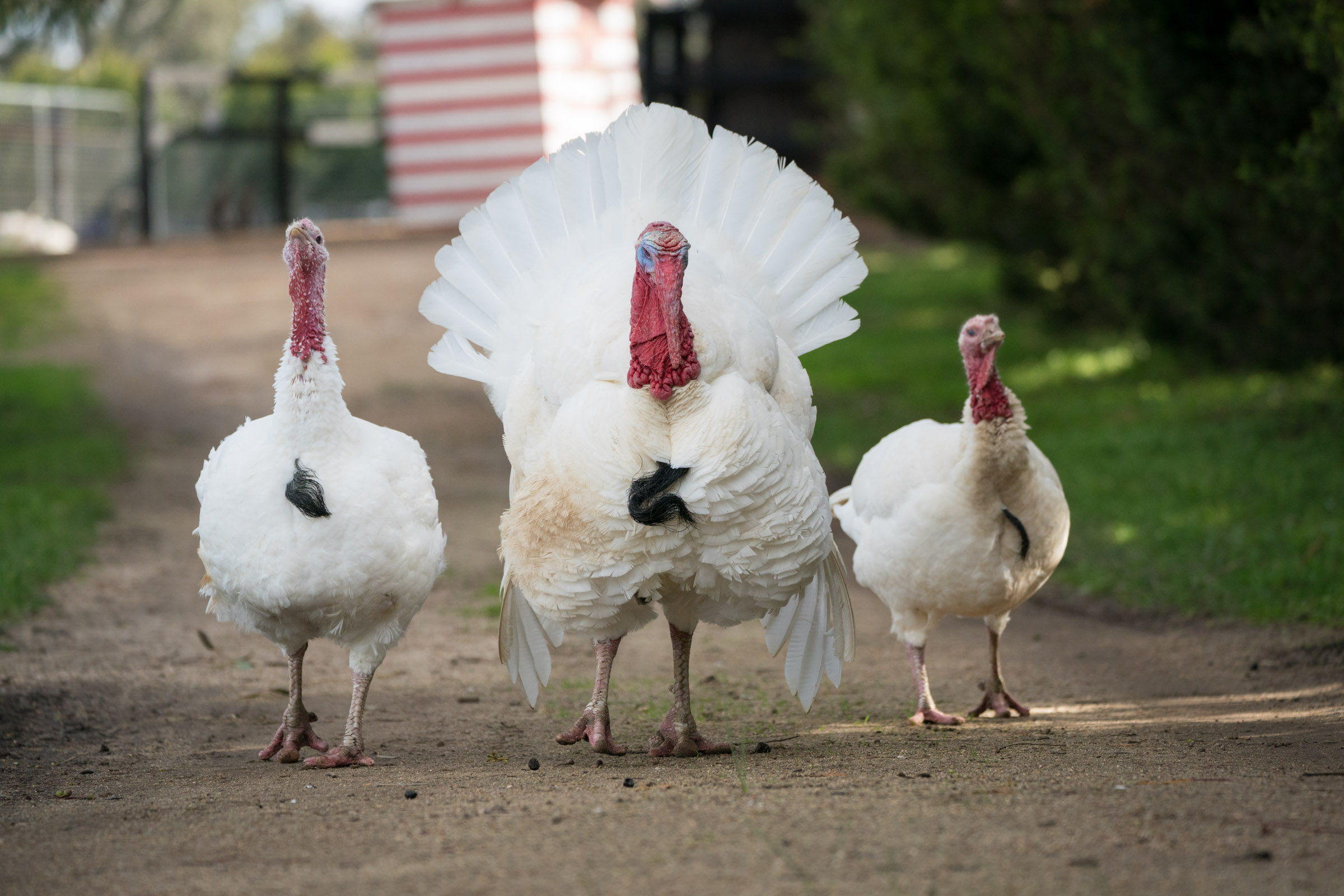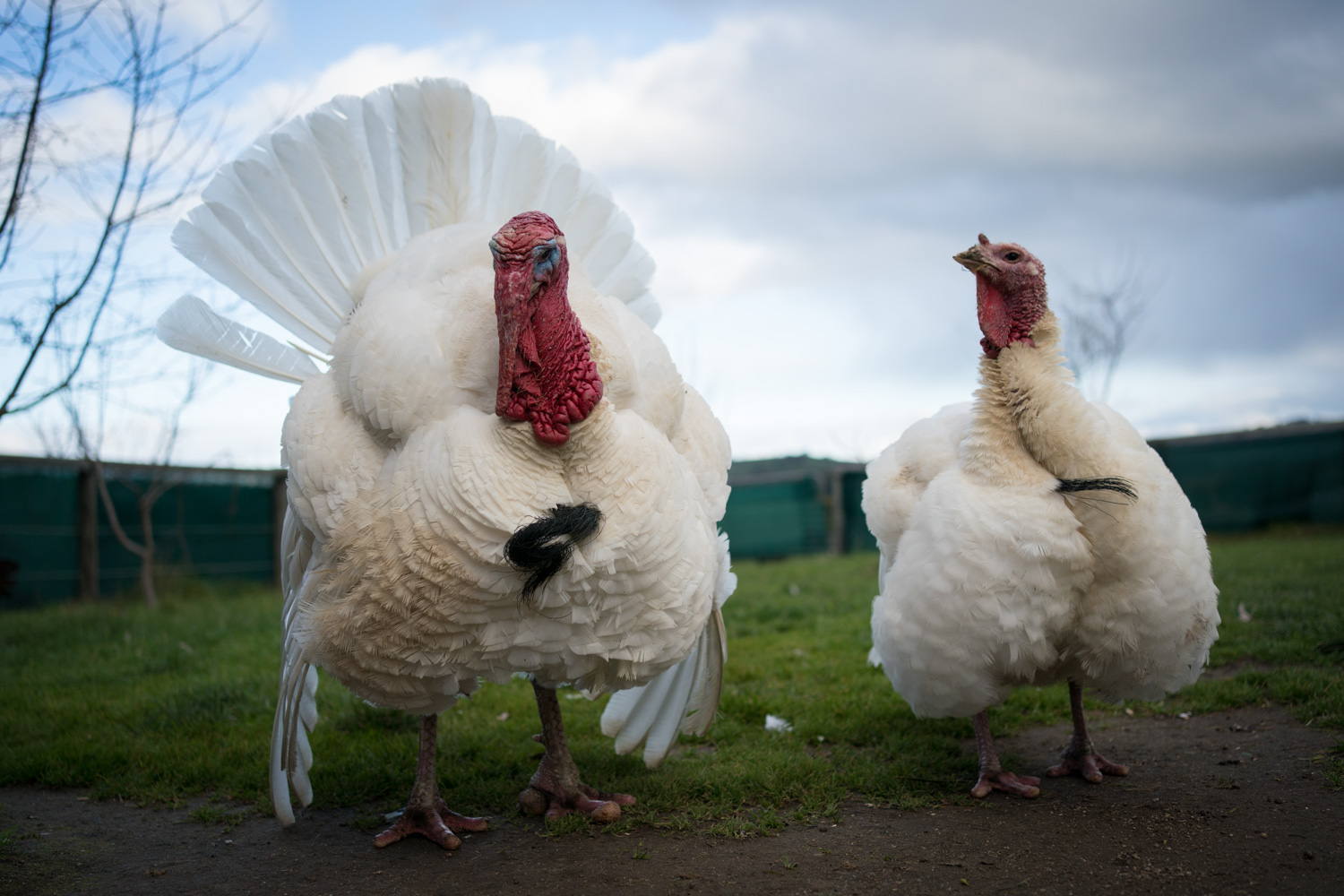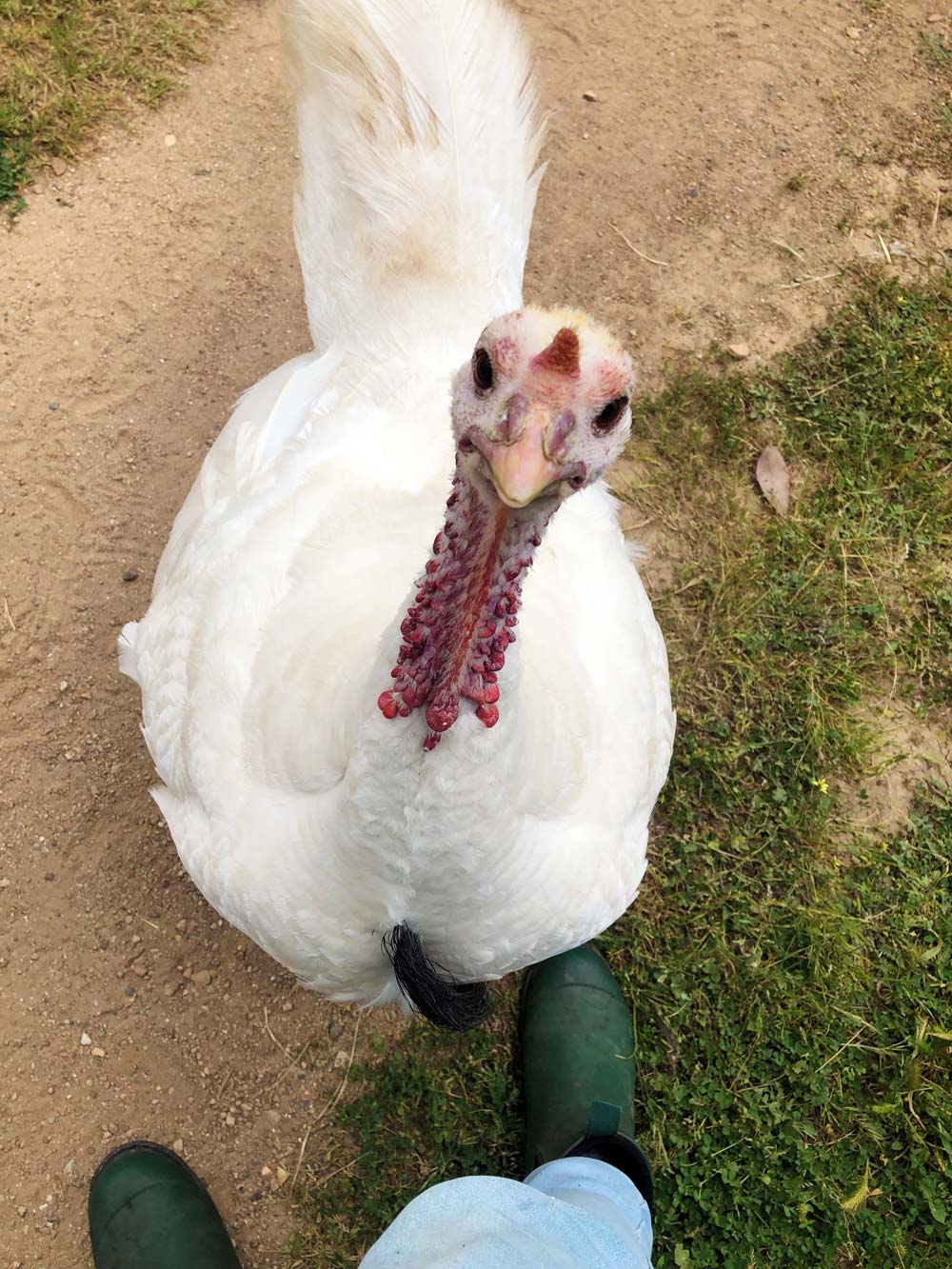 Preena
As Christmas approached, ten baby turkeys were left at our sanctuary gate. Entering a place where kind hearts would spare them from being the centrepiece of a dinner table, sweet Preena was one of the lucky ones.
Preena and her domestically raised kin have been bred in severely cramped conditions to grow big and fast, leaving them with developing bones burdened under the weight of oversized muscles.
Given the chance, turkeys are kind and forgiving. 
Preena now spends her days wandering the sanctuary in search of the next person to give her a gentle stroke. Her contended purr serves as a reminder that although she may look different from our beloved pets, she experiences the world in much the same way.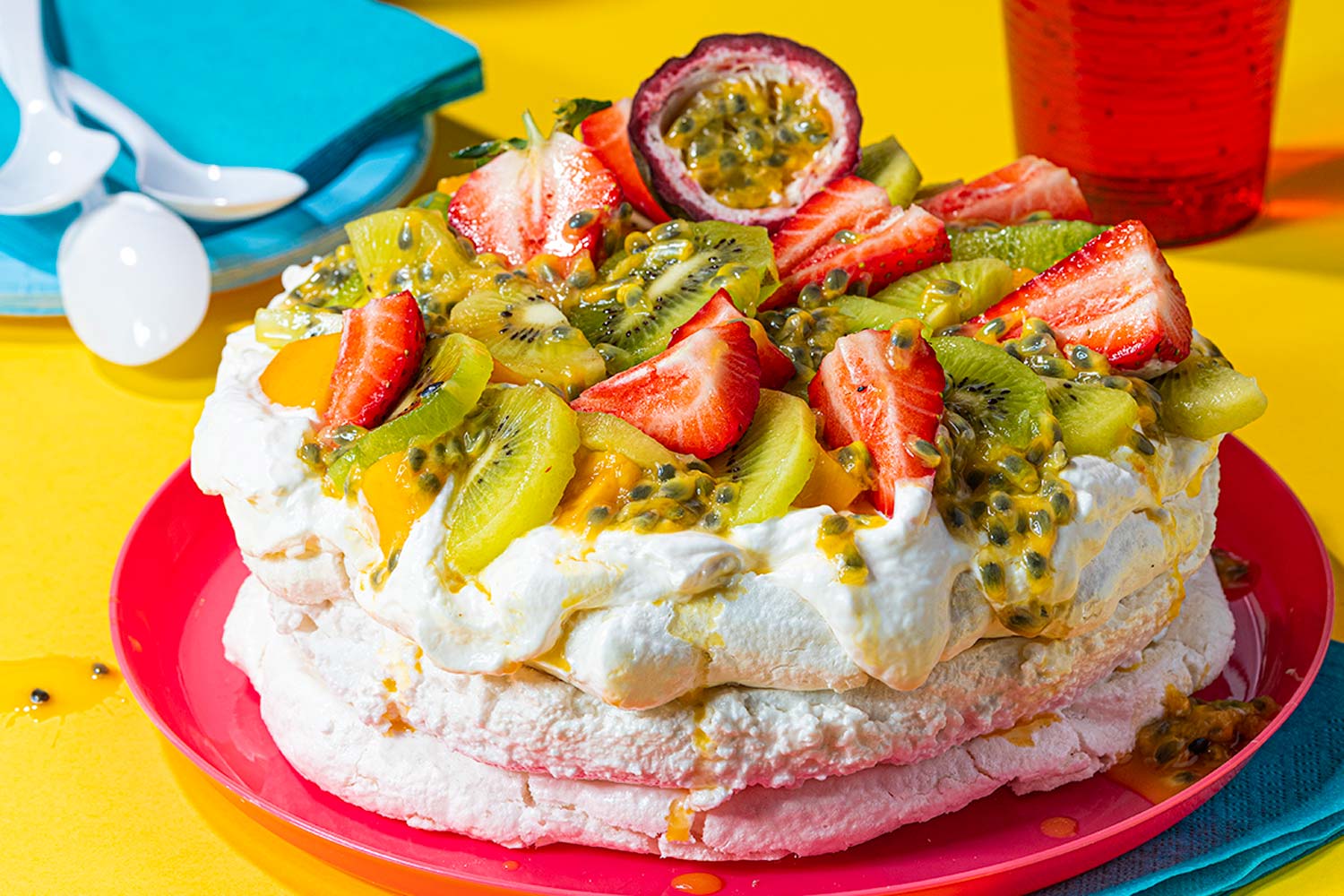 Recipes for a Kind Christmas
Enjoy a scrumptious Christmas feast that is kind to animals. These plant-based twists on festive traditional dishes will impress the whole family! See the recipes below or download the free eBook below.
The Perfect Pavlova
Award-winning cookbook author Zacchary Bird visited Edgar's Mission to share his mouth-watering recipe for vegan pavlova – or 'fablova'! Check out his cooking demo above, thanks to Vegan Easy.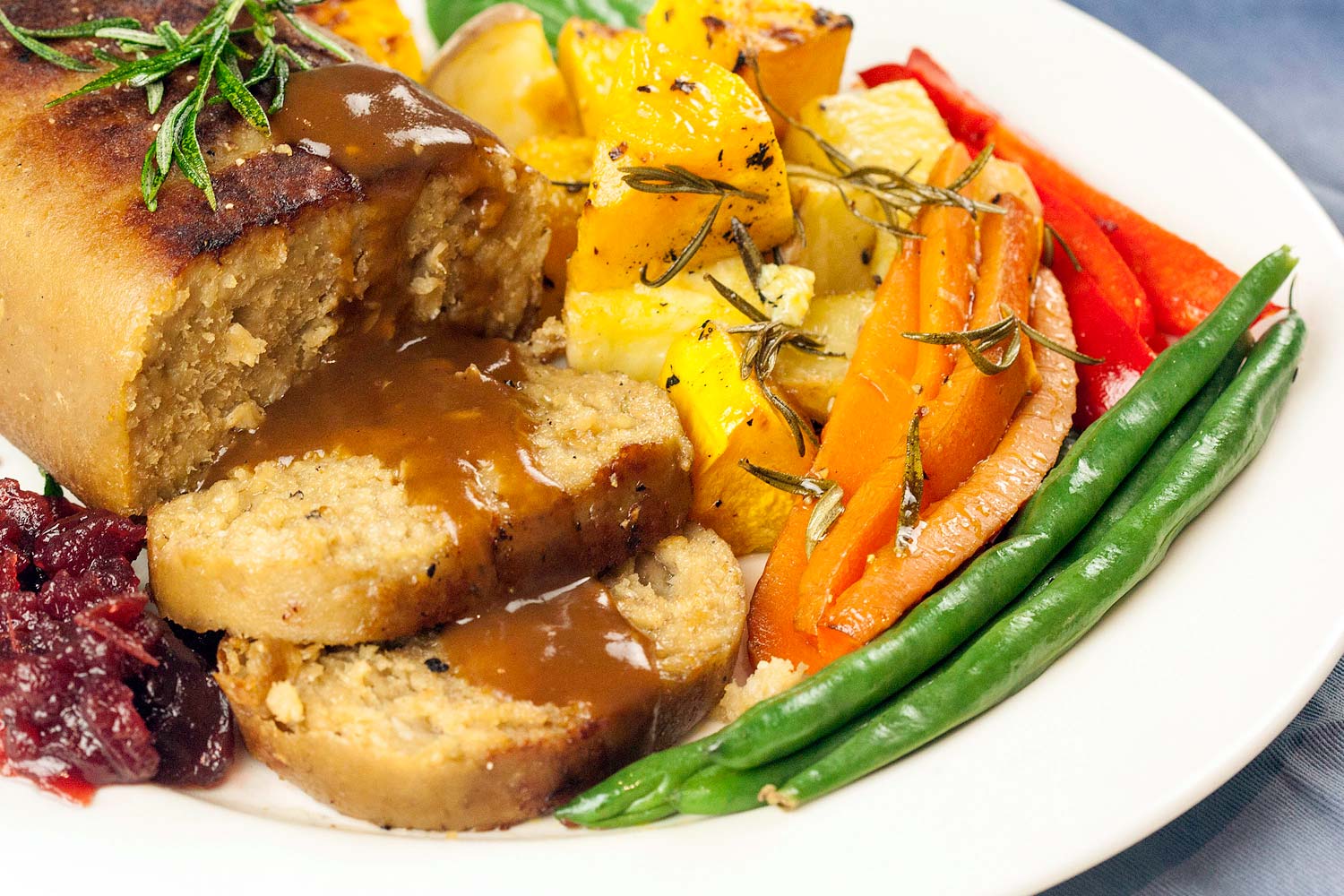 Simple Sunday Roast
SERVES 2
1 cup butternut pumpkin with skin, cut into pieces
1/2 a potato
1/2 cup green beans
1/2 a carrot, cut into bite size pieces
1/2 a green capsicum
1 cloves garlic (leave small ones whole, chop large ones)
Olive oil (optional)
1 Tbsp dried rosemary
1 pre-made Vegie Roast (serve 2 slices per person)
Fresh ground black pepper, garlic and iodised salt (optional) to taste
Handful of fresh basil leaves 2 tsp vegan gravy powder

Place all the veggies (except the capsicum) and garlic in an oiled baking dish, sprinkle with the rosemary.
Cover with aluminium foil and bake in a pre-heated oven at 180C/355F for 20 minutes.
Prepare roast by following the instructions, cook with oil and seasoning.
After the veggies have baked for 30 minutes, position the roast in the middle of them, add the capsicum and bake for a further 20 minutes. Add the basil 10 minutes before the end of cooking time.
Serve with gravy. Optional dash of cranberry sauce makes it even more special.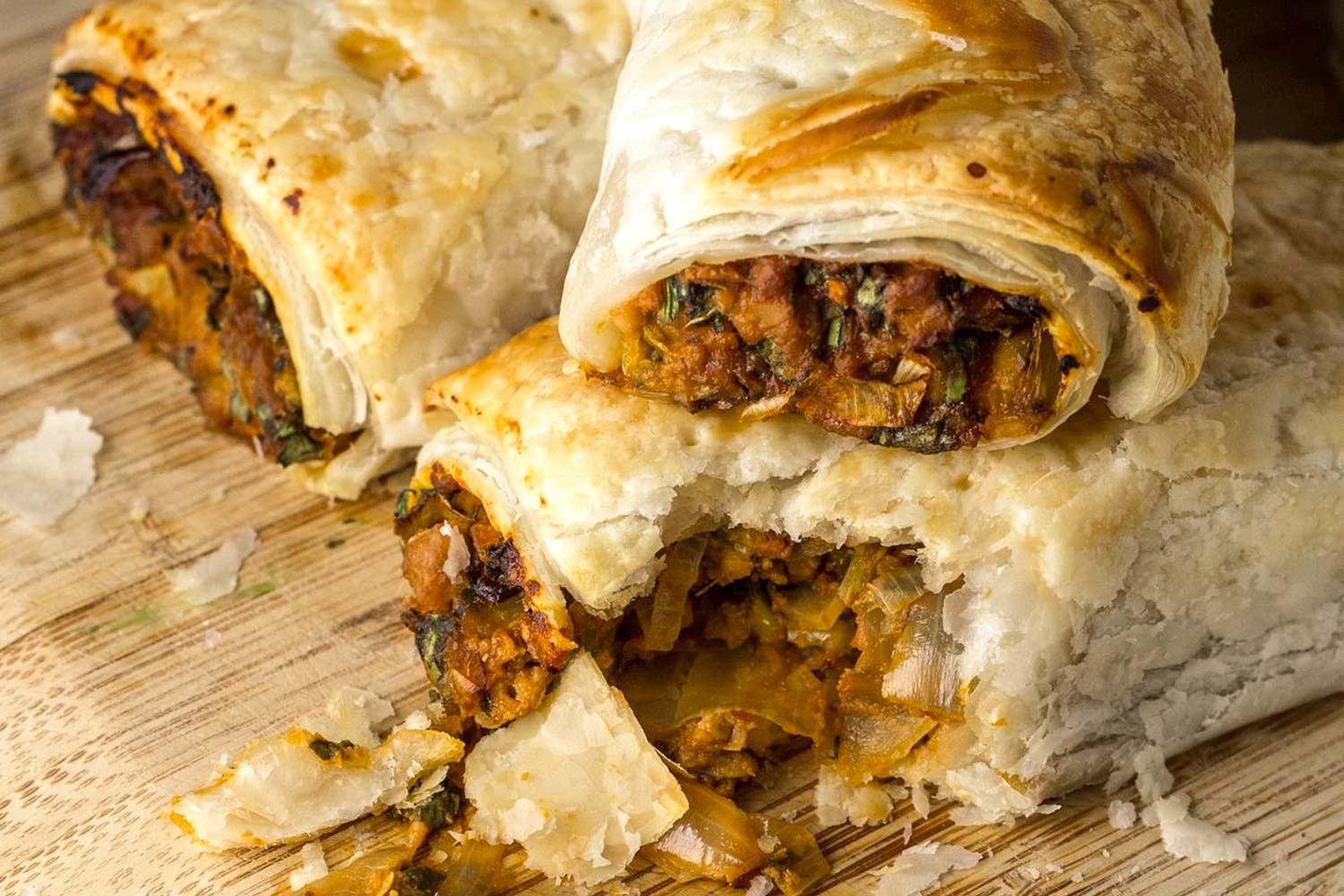 Spinach and Pine Nut Rolls
SERVES 2
100g/3.5oz of tempeh* diced into cubes
1/4 cup leek (white part only; rinsed and thinly sliced)
1 tbsp pine nuts
1/4 tsp cumin
1/4 red onion
1 tsp oil (optional)
1 cup spinach chopped
Pinch of iodised salt (optional)
1 sheet of vegan wholemeal puff pastry**
Soy milk to glaze
To Serve:
1 medium carrot
A few chunks of sweet potato
Preheat oven to 180C/355F. Fry the chopped onion and leek until they start turning soft. Add the tempeh and spices and cook for a further 5 mins until the tempeh is starting to brown slightly. Once browned, transfer into a large mixing bowl. Add the rest of the ingredients to the bowl and mix through thoroughly.
Remove the sheet of vegan puff pastry from the freezer and allow to defrost. Place the mixture onto the sheets of puff pastry in a line along one edge of the pastry. Starting from the edge that has the mixture on it, roll the pastry towards the opposite side forming a log. Lightly press the pastry mix to flatten into a sausage roll shape and cut to desired length.
Cover a tray with baking paper and place the rolls evenly spread out. Lightly brush the top with soy milk.
Cut the carrot and sweet potato into small chunks and place on baking tray with the rolls.
Bake in the oven for 25 min or until golden brown on top.
Free Kind Christmas Recipe eBook
From mouth-watering mains to delectable desserts, please enjoy a range of plant based recipe options the whole family will love.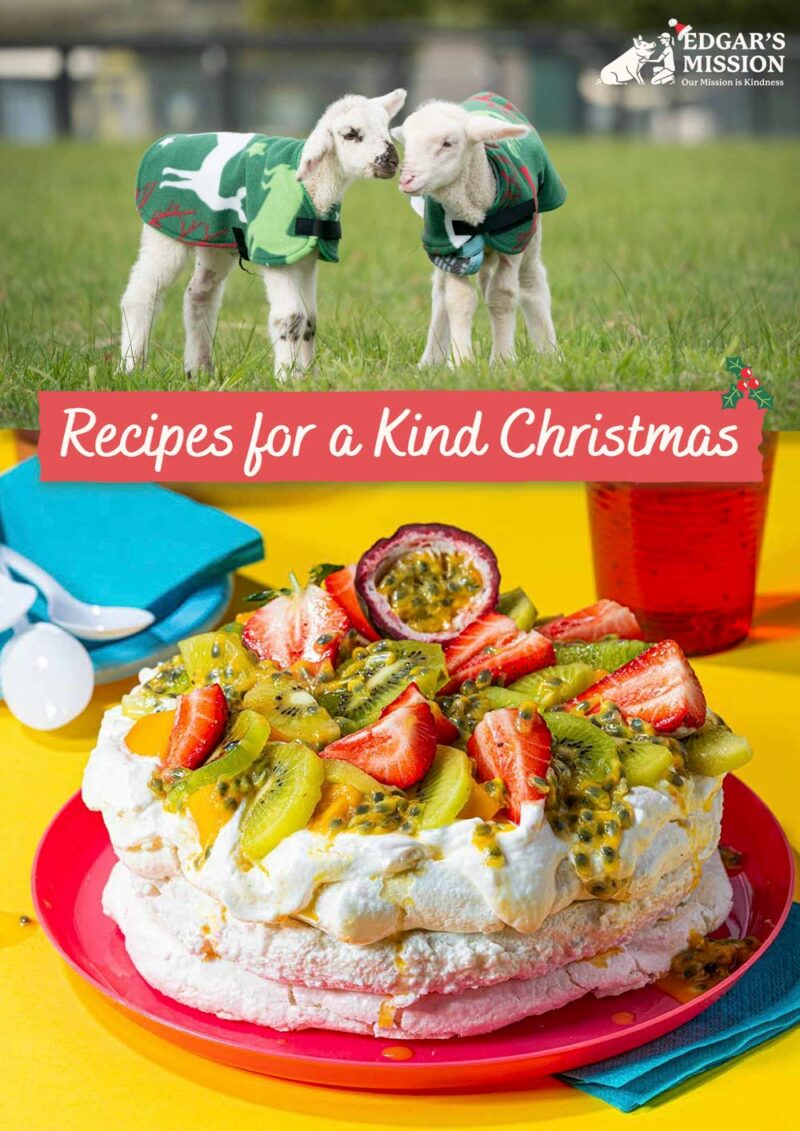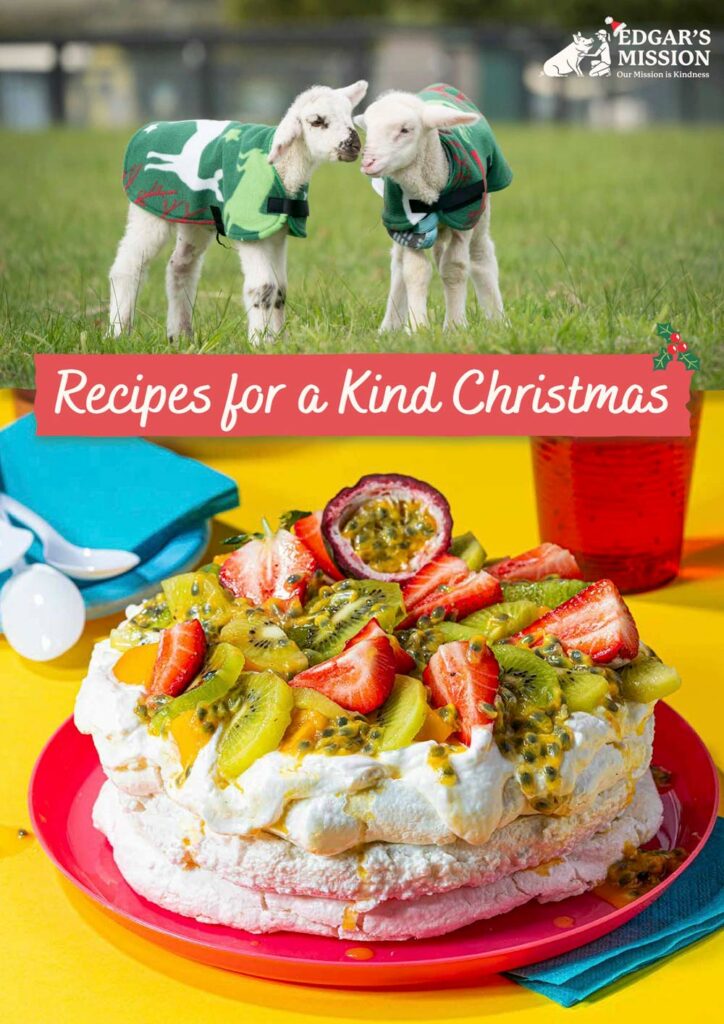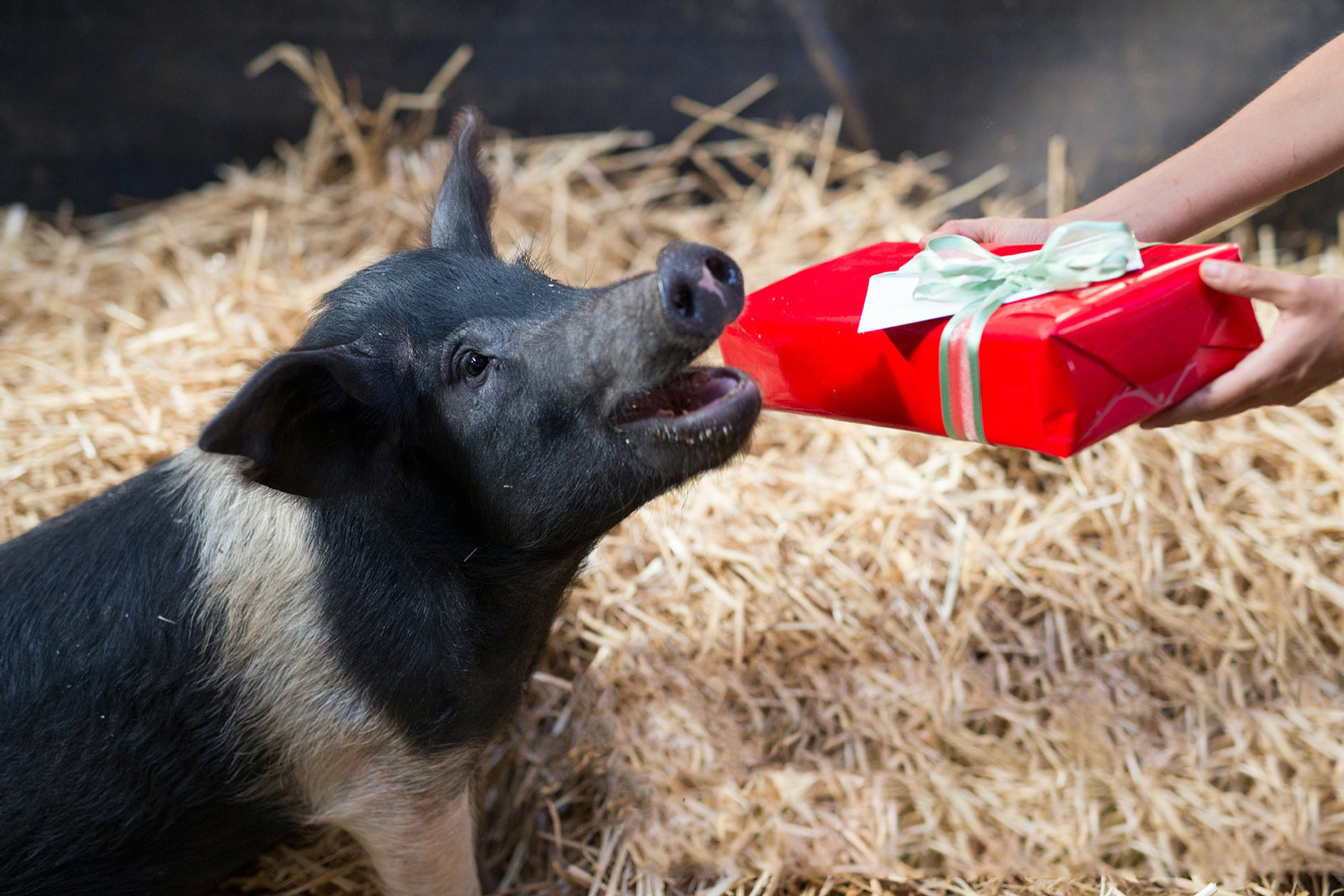 Kind Gift Guide
Want to give gifts that do not harm animals? Here are some ideas!
Sponsor a rescued animal.
Select a Best Buddy from our sanctuary favourites, and your loved one will receive a postal pack or e-certificate confirming their sponsorship.
Give a gift of kindness.
From a hay donation to our animal rescue fund, you can select a donation gift on behalf of your loved one, and they will receive a postal pack or e-certificate.
Shop kind.
Our Edgar's Mission Kindness Shop has ethical gifts including homewares, clothing and more – and all profits go towards the animals.
Choose cruelty-free.
Check that any cosmetics have a cruelty-free or vegan stamp of approval to ensure that no animals were tested on or used.
Random acts of kindness.
Walk someone's dog, wash their car, mow their lawn – sometimes it's the little things that make a difference!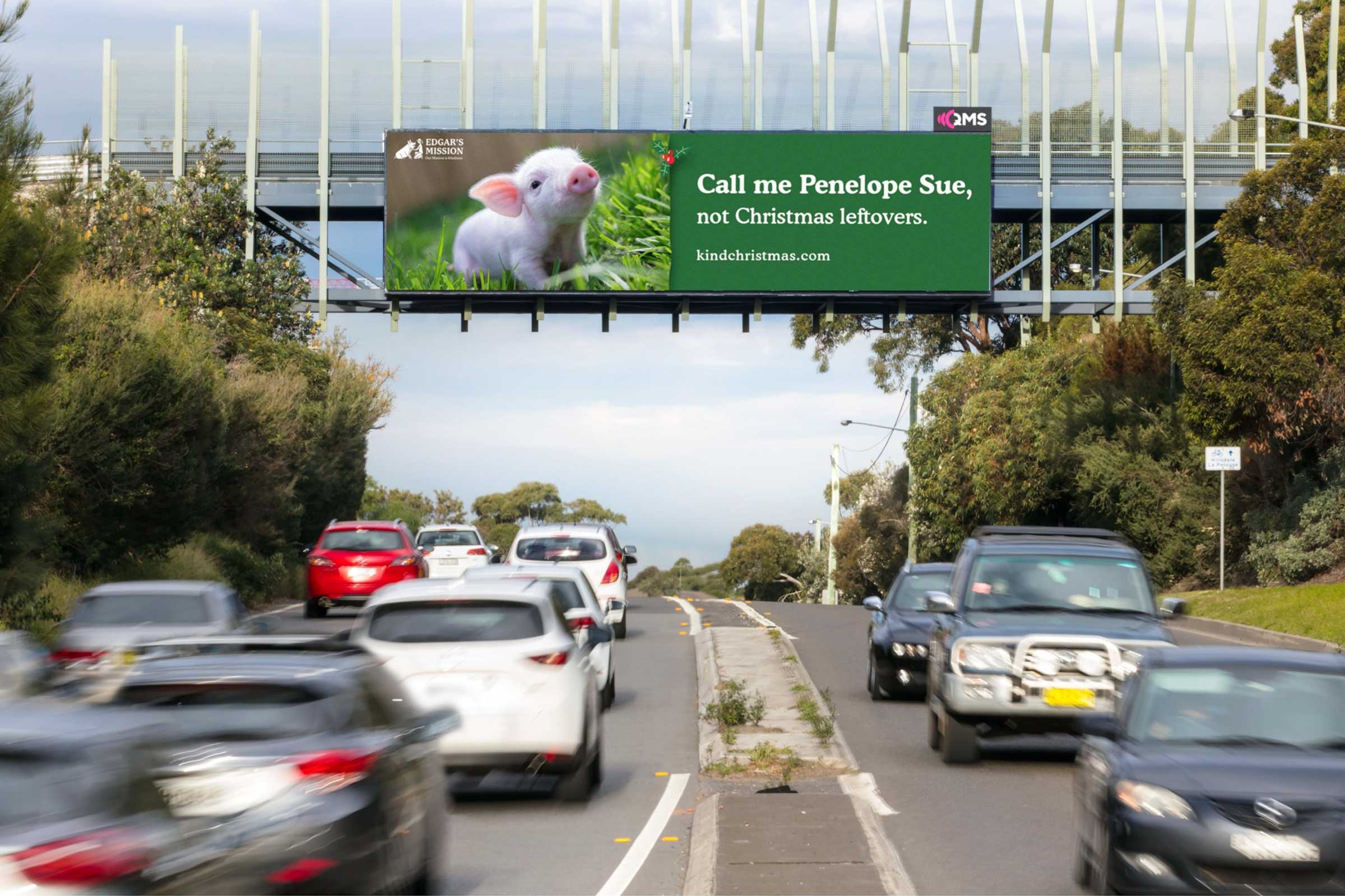 Free Kind Christmas Goodies
To thank you for being kind, please enjoy these free resources from Edgar's Mission:
Kind Christmas Advent Calendar
Simply print off and countdown the 25 days of kindness!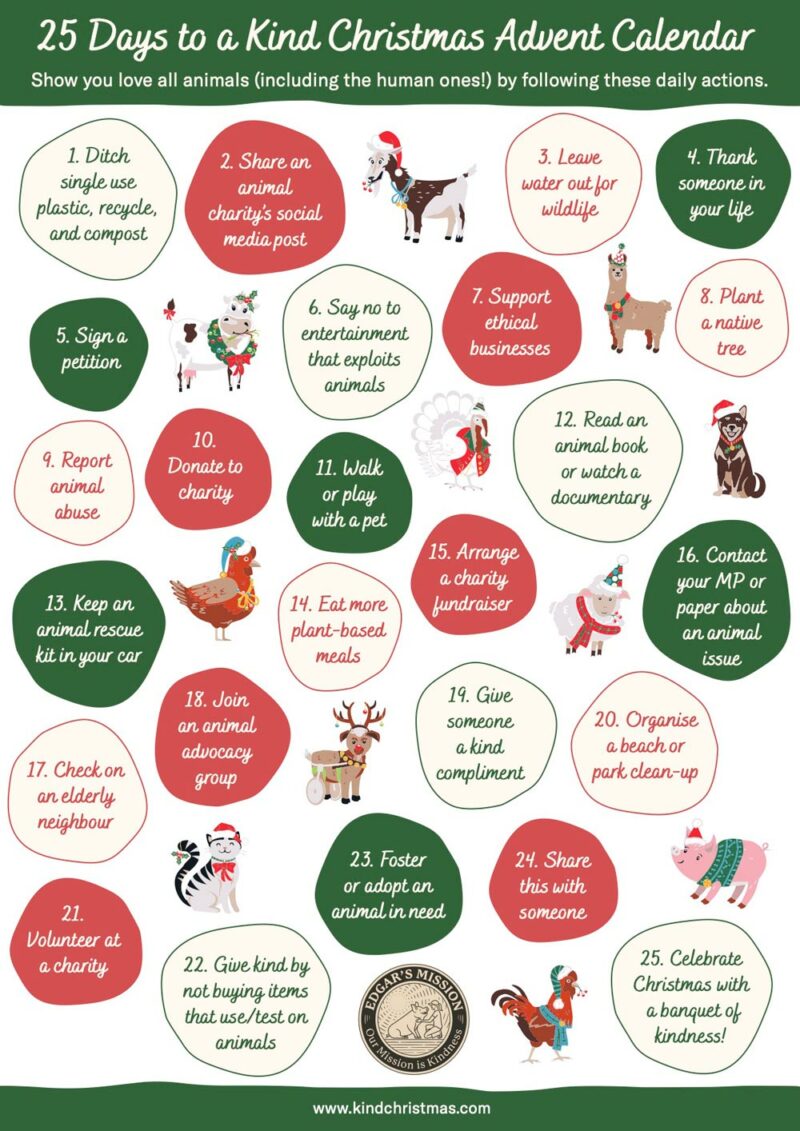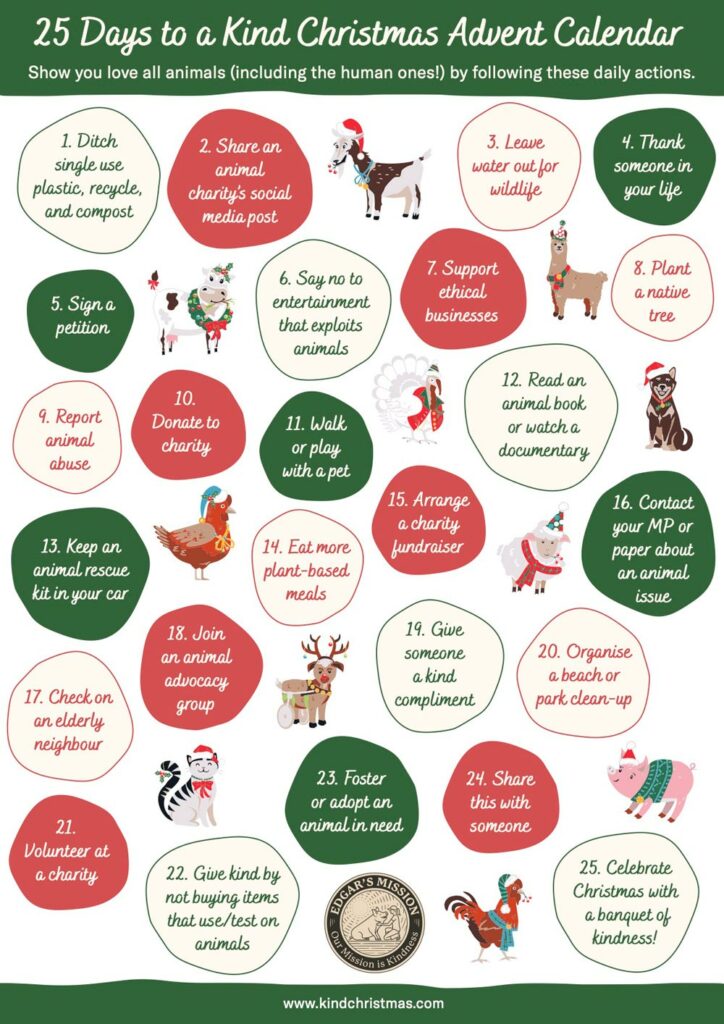 Kind Christmas Decorations and Gift Tags
These cute animal images can be printed and strung up on the tree, or added to your Christmas gifts.